West Chesters new Topgolf almost countys tallest building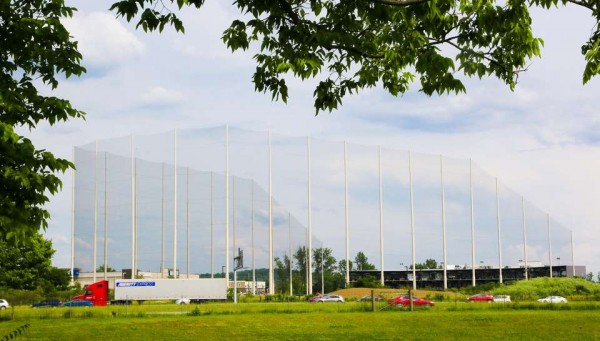 WEST CHESTER TWP. —
It looks a little like an enormous playpen towering along Interstate 75 in West Chester Twp., but officials say the new Topgolf facility will be a huge draw to the area, not just an eyesore as some have said.
Several weeks ago 27 tall poles, 170 feet high, began appearing in the sky, then came the netting. Now the only "building" taller in the county appears to be the 200-foot tall Government Services Center in Hamilton.
One Journal-News reader is not pleased and called it an "eyesore" in a letter to the editor questioning the approval of such a high structure by township zoning officials.
"How could you allow the monstrosity Topgolf that has been built off of Union Center? Could it really bring in that much additional tax revenue for our town," resident Christopher Miltiades asked. "The residents and our past elected officials worked so hard to keep our town looking nice. Now we have 200 feet poles and screens that our town will be identified with."
While some see the project as an aesthetic atrocity, others see economic potential.
Liz Gaerke, of West Chester Twp., said the poles look "a little out of place" but added that she likes the idea of what the project will create in terms of entertainment.
"I'm hoping the enthusiasm about it will cancel out the different look of it," she said. "It's not in many areas or anywhere around this area of the country at all so I'm thinking it will be good for our community and economy, that it will draw people and help out restaurants and other businesses and places that people go while come in town for Topgolf."
The entertainment complex — it's more than just a three-tiered driving range — will feature 102 climate-controlled hitting bays that can host up to six players at one time and the netting provides almost 100 percent containment, preventing balls from pinging off onto I-75.
The facility also includes 230 high-definition flat-screen TVs, an extensive food and beverage menu and up to 3,000 square feet of private event space.
They have begun hiring for 450 jobs.
Aaron Wiegand, West Chester's business attraction and expansion manager, said the Topgolf facility is a permitted use in the zoning classification and it needed only two — he says that's a pretty low number — variances, one for the pole height and the other for signage. The maximum allowed height in the township is 120 feet.
Since the use was allowed, the township trustees did not have any input on the project. The zoning board of appeals granted both variances that cleared the way for the venue in April 2015.
Trustee Board President Mark Welch said when the poles were first erected he remembered thinking to himself they were pretty tall, but he said the facility is perfect for the township.
"I'm delighted they are coming to West Chester, I think they will be a cornerstone for the emerging entertainment district that we now know as The Streets of West Chester," he said. "You know, they are attention-getting aren't they."
Wiegand said Topgolf is a proven brand with a good reputation and he said "attractions" usually do look very distinctive, but there is a dual purpose here.
"Their distinction, they're not tall just to be tall, the height is based on their years of operation and stopping golf balls from leaving their facility," he said. "It is really important, we don't want golf balls flying onto (Interstate) 75. The height is not a cosmetic, pull it out of nowhere height, like hey we can get a little more interstate visibility by having this certain height, height was based on a significant amount of research."
Mark Hecquet, executive director of the Butler County Visitor's Bureau, said they haven't been able to get a true read on what Topgolf will mean to the county economically, but if the other 22 locations are any indication it will be sizable.
"As of right now we have not been able to quite calculate the potential economic impact of Topgolf," he said. "We have been told other similar Topgolf facilities attract over 200,00 visitors annually. If these numbers are accurate Top Golf certainly will be significantly economically impactful to West Chester as well as Butler County."
Township spokeswoman Barb Wilson said they posted on Facebook that Topgolf was coming and did get some negative comments about the changing landscape but positive comments were aplenty as well.
"It was mostly the view, but everyone seemed to respond back with a positive from somebody who lived in an area where there was Topgolf," she said. "They were excited and letting their friends know it was coming here, so it kind of balanced itself out."
She also said some people are under a misconception the township was somehow paid to allow the new venue in. Topgolf paid the same $350 BZA fee everyone does. She said enhanced property tax revenues would be the only direct benefit from the attraction. The bulk of those go to the schools not the township.
"I don't think it's the most beautiful place to see but I'm also really excited to have something that's going to bring people from Cincinnati up to the suburbs," said Kerry Hendel, of West Chester Twp. "Being single and always having to go to the city to see my friends … maybe this will be an opportunity for them to come up here and experience something new in the suburbs."
Bill Hall, a West Chester Twp. resident since 1995, said Topgolf's poles are "pretty ugly" but he still plans to patronize the business.
"It doesn't offend me that much," said Hall, as he worked on a laptop outside Barnes & Noble and within clear sight of the soon-to-open golfing complex. "I've lived out here 21 years and I've seen a lot of growth to say the least and it doesn't particularly bother me. I'm not at all against it."
Brent Cullen, of West Chester Twp., said it's "pretty cool" that such an entertainment venue will be opening in Butler County when there are only 23 others open nationwide.
"I'm a big golfer, so I think it's pretty neat to have a facility that's that state-of-the-art with different game aspects and the social aspect of it and trying to get people to enjoy golf," Cullen said. "I could see where (viewing it as an eyesore) might be an initial response but … I was kind of impressed with the type of poles that were put in there. Back in the day you used to have telephone poles and ratty nets and I felt like they're doing a really solid job to make that safe and secure and as aesthetically pleasing as you can while also protecting that area around them so no errant balls hit the highway or anybody (in the parking lot) of Main Event Entertainment."
Topgolf spokeswoman Morgan Wallace said the 170-foot poles and their nets are standard for all locations and designed to keep the balls in bounds for safety.
The poles will be less visible at night, even after the facility opens, but there will be lights that make the field visible after sunset, she said.
Topgolf venues exist in a variety of settings, but often are located near high-traffic areas with easy accessibility from a major roadway, Wallace said.
Poles are designed to withstand extreme weather conditions for each market they are in, taking into consideration such factors as average temperatures, snowfall, ice, wind and more, she said.
http://www.journal-news.com/news/news/local/west-chesters-new-topgolf-almost-countys-tallest-b/nrZGx/?%%__AdditionalEmailAttribute4%%%%__AdditionalEmailAttribute5%%