West Chester plans over $3M in road fixes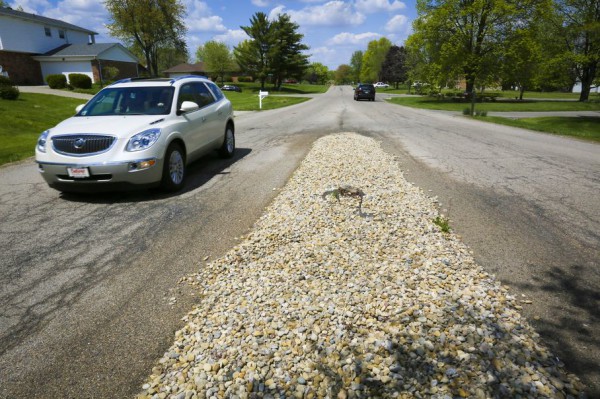 WEST CHESTER TWP. —
This township of approximately 61,000 residents and more than 3,000 businesses is investing more money than ever to affect a greater number of road miles.
In total, West Chester Twp. has budgeted nearly $3.3 million in infrastructure improvements in 2015, more than previous years, township officials said.
That's pleasant news to Gene and Ann Griffith, residents of Lakota Hills Drive since 1975, who said they are "delighted" to hear a fix is coming to their street.
Stretching a half mile from Tylersville Road to Autumn Glen Drive, the road was last repaved in 2001. Portions of the pavement are cracking or entirely missing.
"This is the first time I can remember that it's been this bad," Ann Griffith said. "It badly needs it. Now, we know it's going to be a mess, but … there's ways we can go around it."
This year's infrastructure improvements includes $1.2 million in asphalt paving of 10.3 miles of road, as well as $1 million to pave 2.5 additional miles in tax increment finance districts.
The Butler County Engineer's Office will pave an additional 3.1. miles of township roadway.
In addition, 9.6 miles of township roadway are set for $325,000 worth of black mat or slurry sealcoating, 16 section of culvert will be repaired or replaced for $360,000 and 14,250 feet of curb will be repaired or replaced for $400,000.
As West Chester's infrastructure ages, investment is being made to maintain "the quality roadway system that residents and businesses have come to expect in this community," said Barb Wilson, spokeswoman for the township.
"We monitor the conditions of our roadways every year … so the decision to repave, slurry, etcetera, is based upon the existing condition of the roadway," Wilson said. "It isn't as simple as every 15 years the road is paved."
Costs, the outcome of winter weather conditions, the amount of traffic on the roadway and other factors are all taken into consideration when the annual list is assembled, Wilson said.
West Chester Twp. also budgeted for the extension of Civic Center Boulevard to Allen Road, a project to be funded from TIF funds and not included in the nearly $3.3 million season of infrastructure improvements. That project, which will help connect the expanded Streets of West Chester with Allen Road and boost economic development, has been budgeted for the past several years, but has been contingent upon further development of that area, officials said.
The township's annual infrastructure improvement program is critical to its "keeping up" with the repair and maintenance of infrastructure as it ages and maintaining the community's appearance and function, Wilson said.
The once rural township now has 220 center line miles of roadway for which it is responsible. Since 2003, West Chester has gained nearly 18.6 miles of roadway to maintain and repair, most of that between 2003 and 2008 and only 1.3 miles added since 2008.
---
IS YOUR STREET GETTING PAVED THIS YEAR?
Here's the list of ones that are:
Adena Court (Minuteman Way to cul-de-sac)
Adena Hills Court (Minuteman Way to cul-de-sac)
Ashley Hall Court (Colonial Mill to cul-de-sac)
Beckett Pointe (Beckett Ridge Boulevard to Tennyson)
Beckett Rd. (West Chester Rd. to UCB)
Bolingbroke (Woodcroft to Whispering Way)
Charming Manor (Colonial Mill Manor to Butler Warren Rd.)
Colonial Mill Manor (Fox Knoll to Country Oaks Station)
Cox Rd. (Tylersville to Barret)
Donegal Drive (Rolling Meadows to Galway)
Driftwood Lane (N. Windwood to Pinewood Lane)
Foxview Pl. (Greyfox to cul-de-sac)
Friar Tuck (Dimmick to Willowood Drive)
Galway Court (Rolling Meadows to cul-de-sac)
Kennesaw Drive (Tylersville to Seminole)
Lackawanna Court (Old Station Drive to cul-de-sac)
Lakota Hills Drive (Tylersville to Autumn Glen)
LeSourdsville-West Chester (Beckett Ridge to Cincinnati-Dayton)
Lupine (cul-de sac to cul-de sac)
Maud Hughes Rd. (Hamilton-Mason to Cincinnati-Dayton)
McCauly Rd. (Dimmick to Sharonville Corp Limit)
Meridian Way at Allen Road
Minuteman Man Way (Revere Run to Jerry Drive)
Old Station Drive (North Windwood to cul-de-sac)
Oregon Pass (Old Station to cul-de-sac)
Pinter Court (Beckett Pointe Drive to cul-de-sac)
Plumwood Court (cul-de-sac to route end)
Rodney (cul-de-sac to cul-de-sac)
Round House Drive (Oregon Pass to cul-de-sac)
Rushwood Court (Windwood Drive to cul-de-sac)
Sonya Lane (Fields Ertel to cul-de-sac)
Timberview (U.S. 42 to Lupine Drive)
Turnberry Court (Galway to cul-de-sac)
Tyler's Estate Drive (Tyler's Terrace to Tyler's Estates)
Tyler's Reserve Drive (Smith to Tyler's Terrace Drive)
Tyler's Terrace Drive (Tyler's Reserve to Tyler's Hill)
West Chester Road (Beckett to Union Centre Boulevard)
West Chester Road (Muhlhauser to Cincinnati-Dayton)
West Chester Road (Union Centre Boulevard to Muhlhauser)
Willowood Court (Willowood Drive to cul-de-sac)
Willowood Drive (Cul-de-sac to Creekstone Lane)
Willowood Drive (7023 Willowood to Plumwood Court)
Woodthrush Lane (King Fisher to Rocky Pass)
http://www.journal-news.com/news/news/west-chester-plans-over-3m-in-road-fixes/nk7SD/