West Chester Hospitals new maternity unit by the numbers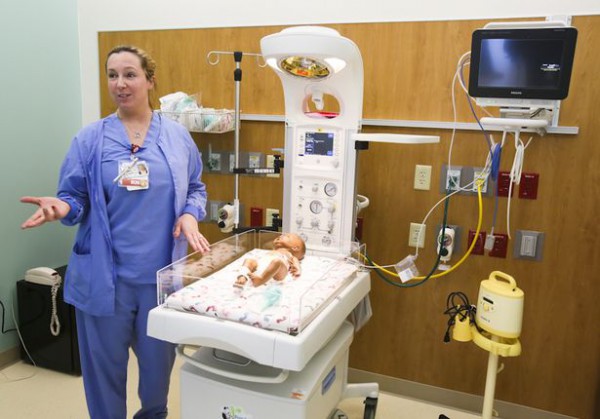 WEST CHESTER TWP. —
A UC Health hospital has converted medical-surgical space into a new $10 million maternity unit preparing to open for new patients next week.
West Chester Hospital held Wednesday a ribbon cutting to show off its new maternity services, which hospital officials say allow for newborn deliveries with hotel-like amenities.
The general public is welcome to see the new unit, whether they're expecting or not, during an open house from 11:30 a.m. to 3:00 p.m. Saturday at the hospital, at 7700 University Drive. Doctors and clinicians will be available to answer questions about services to be offered. And tours will be available to see the labor, delivery, recovery, and postpartum suites; surgical suites, and the Friends and Family Lounge.
Then, the unit will be ready for patients and deliveries beginning Wednesday, April 15.
The Journal-News compiled the following details by the numbers of the new maternity services, according to the hospital:
• $10 million investment: The project converted for inpatient space into 8 labor, delivery, recovery and postpartum rooms; 2 surgical suites for C-sections; a new nursery; and other space for maternity.
• 166 inpatient beds: As a result of adding maternity services, West Chester Hospital now has a total 166 adult inpatient rooms for other departments compared to 186 before.
• 675 births: projections are for West Chester to deliver 675 birth by the end of 2015, and grow volume up to 2,000 births annually by year five.
• 4,000 mothers: UC Health believes that many mothers travelled outside of West Chester Hospital's market area for delivery services last year.
http://www.journal-news.com/news/news/west-chester-hospitals-new-maternity-unit-by-the-n/nkqtw/