West Chester Hospital Recognized by Healthgrades for Providing Outstanding Patient Experience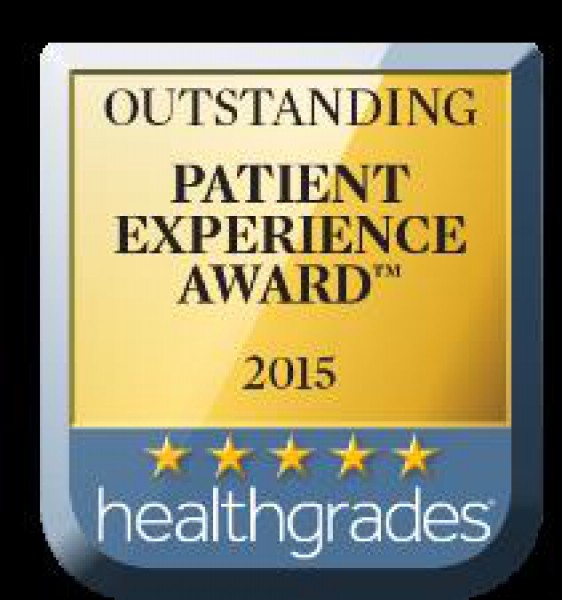 West Chester, OH
West Chester Hospital has received the Healthgrades Outstanding Patient Experience Award™ for 2015, making it only one of two hospitals in the greater Cincinnati region to receive this prestigious recognition for four consecutive years (2012, 2013, 2014, 2015).
West Chester Hospital was identified as providing outstanding performance in the delivery of a positive experience for patients during their hospital stay, according to Healthgrades, the leading online resource for comprehensive information about physicians and hospitals.
Healthgrades evaluated the 3,575 hospitals that submitted patient surveys to the Centers for Medicare and Medicaid Services (CMS), covering admissions from January 2013 – December 2013 in order to identify hospital performance in this area.
"Every positive encounter that a patient experiences during their stay at West Chester Hospital is a result of the commitment to quality, safety and compassion by our dedicated team of employees and physicians. Staff members from every area of the hospital take the responsibility of ensuring clinical quality and exceptional customer service very seriously," stated Kevin Joseph, MD, president and CEO. Their dedication to creating outstanding patient experiences is what enables us to receive this meaningful award."
Healthgrades evaluated performance by applying a scoring methodology to 10 patient experience measures, using data collected from a 27-question survey of the hospital's own patients. The survey questions focus on patients' perspectives of their care in the hospital. Question topics range from cleanliness and noise levels in patient rooms to factors such as pain management and responsiveness to patients' needs. The measures also include whether a patient would recommend the hospital to friends or family.
In order to be recognized by Healthgrades, hospitals must meet eligibility requirements for consideration, which in addition to number of survey responses, includes clinical performance thresholds. Nationally, 3,005 hospitals met those requirements with 452 hospitals outperforming their peers, based on their patients' responses in order to achieve this distinction. West Chester Hospital's performance places them among the top five percent in the nation.
"Today, more than ever before, consumers face decisions – and research their options – relating to where to obtain care, so factors like patient experience are increasingly important," said Evan Marks, chief strategy officer, Healthgrades. "Consumers can have confidence that hospitals that have achieved the Healthgrades 2015 Outstanding Patient Experience Award deliver a positive experience for the patient during their hospital stay."
For more information about Healthgrades, to download a full copy of the report or to get information about hospital and physician quality, visit: healthgrades.com/quality today.
###
About West Chester Hospital
West Chester Hospital, a 186-bed, all-private room, hospital located in West Chester, Ohio, is a member of the University of Cincinnati (UC) Health system. Utilizing the very latest in medical technology, and drawing upon UC's nearly 200 years of research and medical expertise, West Chester Hospital provides discovery-driven care in a pleasant, healing environment. The hospital is conveniently located and easily accessible from Interstate 75 at Tylersville Road. Services available include an emergency department, inpatient and outpatient surgical procedures, as well as a full spectrum of inpatient and outpatient diagnostic testing and treatment amenities. West Chester Hospital is the recipient of Healthgrades® Outstanding Patient Experience AwardTM for three consecutive years (2012, 2013, 2014) – placing the facility's performance above 90 percent of similar hospitals nationwide for patient satisfaction. For more information about West Chester Hospital, please visit UCHealth.com/WestChesterHospital.
About UC Health
UC Health, the University of Cincinnati's affiliated health system, includes University of Cincinnati Medical Center, ranked one of the best hospitals in the region by U.S. News & World Report; West Chester Hospital, one of Cincinnati's newest hospitals and the recipient of the 2013 Healthgrades® Outstanding Patient Experience Award™, placing the facility's performance above 90 percent of similar hospitals nationally for patient satisfaction; Drake Center, Cincinnati's premier provider of long-term acute care; University of Cincinnati Physicians, Cincinnati's largest multi-specialty practice group with more than 700 board-certified clinicians and surgeons; Lindner Center of HOPE, the region's premier mental health center; and several institutes focusing on the areas of cancer, the neurosciences, cardiovascular and diabetes. To learn more, visit UCHealth.com.
CONTACT:
Carol O'Hare, Public Relations & Marketing
(513) 298-7732