West Chester Hospital Receives Major Gift for Maternity Services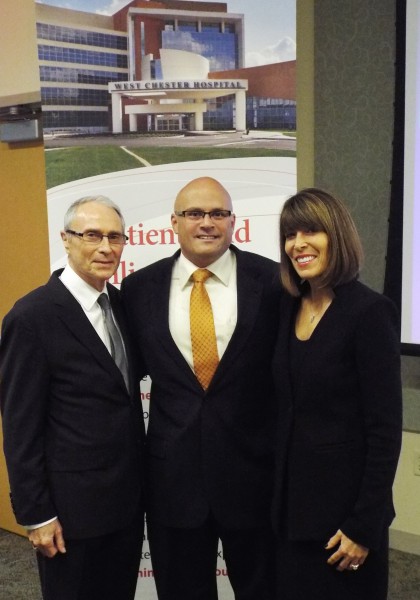 West Chester, OH—November 4, 2014— UC Health West Chester Hospital has received a lead gift from a community member to mark the opening of Maternity Services, announced earlier this year. Prominent business owners in the West Chester community have pledged $100,000 to name the Julie and Frederic Holzberger Nursery and jump start a fundraising initiative, named Exceptional Beginnings. Frederic Holzberger, founder, owner and CEO of the Aveda Fredric Institute, and his wife Julie announced their commitment to West Chester Hospital Maternity Services at an event last week.
As previously publicized, West Chester Hospital plans to open a full-service maternity unit that focuses on enhanced patient experiences. Scheduled to open by May 2015, the new maternity unit will include eight spacious delivery suites, two Caesarean-section operating rooms and triage rooms. In addition, the adjacent nursery will function as a Level IIB neonatal intensive care unit.
"It is people like the Holzbergers that make the West Chester community a tremendous place to live and work," stated Kevin Joseph, MD, president and CEO of West Chester Hospital. "Not only do they provide a benefit through their business, but they have chosen to invest generously in future generations of area residents."
"West Chester Hospital's concern for the community goes far beyond its walls," said Frederic Holzberger. "The hospital has reached out to provide opportunities that enhance our health and well-being, and we are honored to support such a great endeavor. Developing this partnership will only strengthen our communities, our families, and ultimately our lives."
This lead gift has spurred further generosity within the community for the Exceptional Beginnings Initiative. A second gift has been received from Patti Alderson, CEO of the Community Foundation of West Chester/Liberty and long-time supporter of West Chester Hospital, and her husband Dick Alderson, President of Alderson Properties. Additional events and giving opportunities will be planned throughout the opening of the Maternity Services unit.
###
About West Chester Hospital
West Chester Hospital, a 186-bed, all-private room, hospital located in West Chester, Ohio, is a member of the University of Cincinnati (UC) Health system. Utilizing the very latest in medical technology, and drawing upon UC's nearly 200 years of research and medical expertise, West Chester Hospital provides discovery-driven care in a pleasant, healing environment. The hospital is conveniently located and easily accessible from Interstate 75 at Tylersville Road. Services available include an emergency department, inpatient and outpatient surgical procedures, as well as a full spectrum of inpatient and outpatient diagnostic testing and treatment amenities. West Chester Hospital is the recipient of Healthgrades® Outstanding Patient Experience AwardTM for three consecutive years (2012, 2013, 2014) – placing the facility's performance above 90 percent of similar hospitals nationwide for patient satisfaction. For more information about West Chester Hospital, please visit UCHealth.com/WestChesterHospital.
About UC Health
UC Health, the University of Cincinnati's affiliated health system, includes University of Cincinnati Medical Center, ranked one of the best hospitals in the region by U.S. News & World Report; West Chester Hospital, one of Cincinnati's newest hospitals and the recipient of the 2014 Healthgrades® Outstanding Patient Experience Award™, placing the facility's performance above 90 percent of hospitals nationally for patient satisfaction; Drake Center, Cincinnati's premier provider of long-term acute care; University of Cincinnati Physicians, Cincinnati's largest multi-specialty practice group with more than 700 board-certified clinicians and surgeons; Lindner Center of HOPE, the region's premier mental health center; and several institutes focusing on the areas of cancer, the neurosciences, cardiovascular and diabetes. To learn more, visit UCHealth.com.
CONTACT: Deb Titlebaum, Manager, Public Relations & Marketing (513) 298-7782 debra.titlebaum@uchealth.com