West Chester Hospital Ranked Among Top Five Percent of U.S. Hospitals for Clinical Outcomes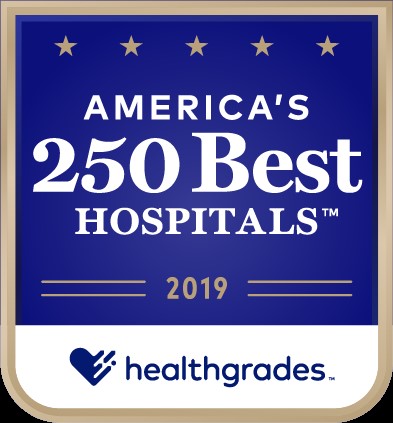 West Chester, OH (February 12, 2019) – UC Health's West Chester Hospital has achieved the Healthgrades 2019 America's 250 Best Hospitals Award™, placing the hospital in the top five percent of more than 4,500 hospitals nationwide for superior clinical performance as measured by Healthgrades, the leading online resource for comprehensive information about physicians and hospitals.
"We are extremely proud that our team of employees and physicians are committed to building and enhancing a culture of patient-centered care. That commitment, coupled with our dedication to healing through academic medicine, enables us to receive this prestigious recognition," said Tom Daskalakis, chief administrative officer for UC Health's West Chester Hospital. "Our placement among Healthgrades' top performing hospitals further highlights our leadership position in providing outstanding patient care in the region."
"Consumers have multiple hospitals to choose from, so it's important they understand which hospitals achieve the best clinical outcomes," said Brad Bowman, chief medical officer at Healthgrades. "Recipients of the Healthgrades America's 250 Best Hospitals Award are setting the bar in patient care."
From 2015 through 2017, patients treated in hospitals achieving the award had, on average, a 27.1 percent lower risk of dying than if they were treated in hospitals that did not receive the award, as measured across 19 rated conditions and procedures for which mortality is the outcome.*
During that same period, if all hospitals performed similarly to those achieving the Healthgrades America's 250 Best Hospitals Award, 168,165 lives could potentially have been saved.
Recipients of the Healthgrades America's 250 Best Hospitals Award stand out among the rest for overall clinical excellence across a broad spectrum of care. During the 2019 study period (2015 through 2017), these hospitals showed superior performance in clinical outcomes for patients in the Medicare population across at least 21 of 32 most common inpatient conditions and procedures — as measured by objective performance data (risk-adjusted mortality and in-hospital complications).
To learn more about how Healthgrades determines award recipients, and for more information on Healthgrades Quality Solutions, please visit healthgrades.com/quality.
*Statistics are based on Healthgrades analysis of MedPAR data for years 2015 through 2017 and represent 3-year estimates for Medicare patients only.
###
About UC Health
UC Health is an integrated academic health system serving the Greater Cincinnati and northern Kentucky region. In partnership with the University of Cincinnati, UC Health combines clinical expertise and compassion with research and teaching – a combination that provides patients with options for even the most complex situations. Members of UC Health include: University of Cincinnati Medical Center, West Chester Hospital, Daniel Drake Center for Post-Acute Care, Bridgeway Pointe Assisted Living, University of Cincinnati Physicians (includes nearly 900 board-certified clinicians and surgeons), Lindner Center of HOPE and several specialized institutes including: UC Gardner Neuroscience Institute; UC Cancer Institute; and UC Heart, Lung & Vascular Institute. Many UC Health locations have received national recognition for outstanding quality and patient satisfaction. Learn more at UCHealth.com.