West Chester Hospital named recipient of 2012 HealthGrades Outstanding Patient Experience Award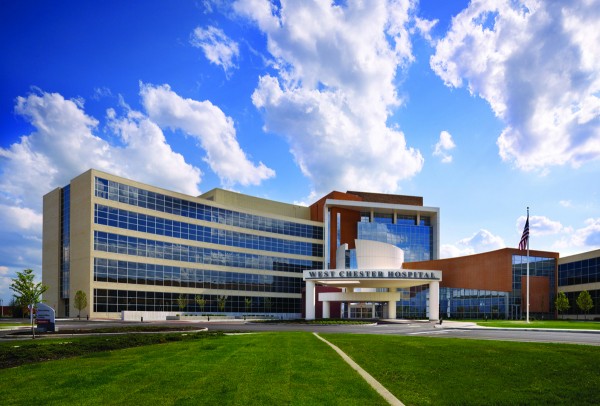 Contributed By: Jennifer Garcia | West Chester Hospital
West Chester, OH – West Chester Hospital was named a recipient of the 2012 HealthGrades Outstanding Patient Experience Award™. This distinction ranks West Chester Hospital among the top 10% of hospitals nationwide based on an analysis of patient satisfaction data for 3,837 U.S. hospitals by HealthGrades, the leading provider of information to help consumers make an informed decision about a physician or hospital. Eleven hospitals in Ohio received the patient experience award, and West Chester Hospital was one of only two in the Greater Cincinnati Region* and Dayton Region to be recognized.

The Outstanding Patient Experience Award recognizes hospitals for patient satisfaction based on answers to 27 survey questions which incorporate the following attributes: doctor and nurse communication, hospital cleanliness, staff responsiveness, medication instruction, post-discharge care education and the patient's likelihood to recommend the hospital to others. According to HealthGrades, in order to rank in the top echelon, 80% of patients treated at the nation's best-performing hospitals would definitely recommend the hospital, compared to only 53% of patients who received care from the poorest-performing hospitals.

"One of the primary goals that we established for West Chester Hospital was to ensure that we continually provided an exceptional healthcare experience to every patient and family member who came through our door. It is both exciting and gratifying to receive external validation from such a well-respected organization like HealthGrades, confirming that we are indeed delivering upon one of our most prudent organizational goals," says Kevin Joseph, MD, president and CEO of West Chester Hospital.

To designate its 2012 Outstanding Patient Experience Award recipients, HealthGrades analyzed HCAHPS (Hospital Consumer Assessment of Healthcare Providers and Systems) hospital survey data obtained from the Centers for Medicare and Medicaid Services (CMS), from April 2010 to March 2011. HealthGrades identified 332 hospitals performing in the top 10% in the nation for patient satisfaction, based on survey responses from patients treated at those facilities. Hospitals had to meet bed size, survey-response size, and clinical-quality thresholds in order to be eligible for the award. Information on award recipients and the ratings methodology is available, free to the public, at HealthGrades.com.

"This year HealthGrades paid particular attention to the impact that patient-provider communication has on patient experience. For example, we found that 27% more patients of the top-performing hospitals reported staff always explained their medications before administering them, compared to hospitals in the bottom 10%," said Kristin Reed, MPH, HealthGrades Vice President of hospital quality programs and author of the study. "Communication is clearly an important factor for patient satisfaction, but it can also be critical to ensuring positive outcomes. We commend hospitals like West Chester Hospital for setting the standard for outstanding patient experience."

When compared to hospitals performing in the bottom 10% for patient satisfaction, HealthGrades Outstanding Patient Experience Award recipient hospitals are attributed with the following:

•50% more patients gave the hospital an overall rating of a 9 or a 10 (10 being the highest possible)
•38% more patients responded that they always received help from staff quickly
•23% more patients reported their nurses always communicated well
•21% more patients felt their pain was always well controlled
•14% more patients reported their doctors always communicated well

West Chester Hospital is a 160-bed hospital located in West Chester, Ohio. Utilizing the very latest in medical technology, and drawing upon the University of Cincinnati's nearly 200 years of medical expertise, West Chester Hospital provides discovery-driven care in a pleasant, healing environment. The hospital is conveniently located and easily accessible from Interstate 75 at Tylersville Road. Services include a full-service emergency department, inpatient and outpatient surgical services, and inpatient and outpatient diagnostic and treatment services. For more information about West Chester Hospital, go to www.UCHealth.com/WestChesterHospital.

About UC Health
UC Health includes University Hospital, ranked the best hospital in the region by US News and World Report; West Chester Hospital, Cincinnati's newest hospital; Drake Center, Cincinnati's premier provider of long term acute care; UC Physicians, Cincinnati's largest specialty practice group with 650 board-certified clinicians and surgeons; the Lindner Center of HOPE, the region's premier mental health center, and the UC Cancer Institute, the UC Cardiovascular Institute, the UC Neuroscience Institute and the UC Diabetes and Endocrinology Institute. To learn more, visit UCHealth.com.

*Region is Cincinnati-Middletown, OH-KY-IN as defined by the federal government's Office of Management and Budget.