West Chester has a New "BIG" Building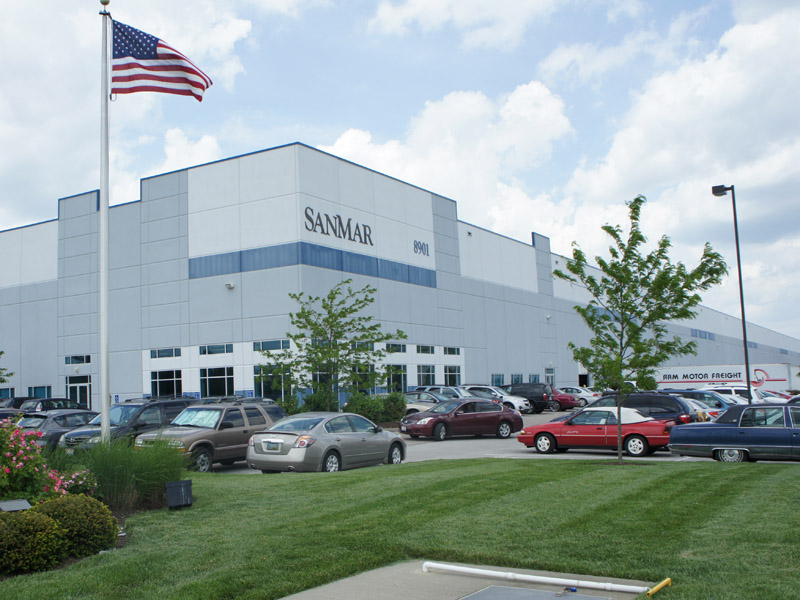 Construction is wrapping up on what is now the largest commercial building in West Chester Township.  It was already a big building to begin with (770,130 sq. ft.), but now that expansion is nearly complete, the building will be more than one million square feet (1,045,545 sq. ft.).  The business is SanMar Corporation. 
SanMar, the nation's premier supplier of wholesale imprintable clothing and accessories, announced the 275,415 square-foot expansion to its existing West Chester facility at 8901 Global Way in May 2022. 
The family-owned and operated business launched back in 1971. SanMar believes blank apparel is just the beginning of countless inspiring stories.  Screen printers, embroiderers, athletic dealers, promotional companies and more count on SanMar for top-quality apparel. Whether supporting its communities and customers or reducing its environmental impact, creating positive change is at the heart of everything SanMar does. 
As the largest supplier of wholesale imprintable clothing and accessories in the United States, SanMar Corporation does more than just make and sell t-shirts—it builds meaningful connections that elevate lives.  SanMar's products and the connections they create impact organizations, individuals and the world. 
Prior to this addition, Cornerstone Brands was the largest commercial building in West Chester with 987,717 square feet of space at 5568 West Chester Road. 
Schumacher Dugan, a general contractor and land development company headquartered in West Chester Township for more than 35 years, was the contractor for SanMar's project. Schumacher Dugan also constructed the Cornerstone Brands building in 1998.   
Schumacher Dugan's team of professionals, with years of industry experience behind them, has completed millions of dollars in commercial and industrial projects in West Chester.  Schumacher Dugan has played a major role in the development of West Chester's commercial market.
ATA Beilharz Architects, a Cincinnati-based architectural and planning firm, was the architect and designer for SanMar's expansion project.  Since 1975, ATA Beilharz Architects have been providing local, state and national clients with creative and cost-effective solutions to their particular design needs.   
"West Chester is honored SanMar chose to expand and grow in the community, and we look forward to seeing what they do next," said Community Development Director Aaron Wiegand.