West Chester development on the hunt for restaurant tenants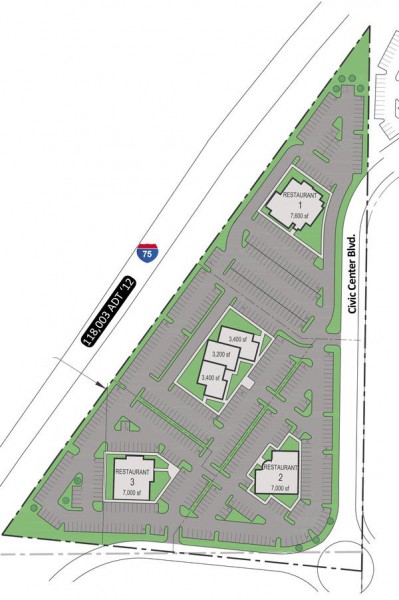 Development in West Chester Township is booming, and one land owner is looking for restaurants to join the party.
Scott Street Partners owns about 10 acres next to the existing Streets of West Chester development at Interstate 75 and Union Centre Boulevard. The land, which is visible from I-75, is being marketed to sit-down, casual restaurants and fast-casual concepts.
"The west side of 75 is virtually 100 percent occupied but there are still a lot of restaurants that don't have a presence in this trade area," said Eric Abroms, partner/broker with retail brokerage firm Onsite Retail Group in Sycamore Township.
Abroms and Joshua Rothstein with Onsite Retail Group are the leasing agents for the property. The marketing plan for the land has three outlots for restaurants ranging in size from 6,000 to 7,500 square feet. In the center of the triangle-shaped parcel would be a multi-tenant retail center for fast-casual restaurant concepts. Abroms envisions tenants like Fusian or Currito would lease these spaces, with a total of 10,000 square feet for the retail center.
Abroms said they are looking for casual restaurants that are either expanding in town or new to the market.
Onsite ramped up marketing of the site in the past 30 days. Civic Centre Boulevard, the road that runs through the Streets of West Chester, will be extended south to Allen Road, a project that is expected to be complete in fall 2015. This road will open up the Streets of West Chester to the planned second phase, as well as the Bass Pro Shops site, which is expected to open in the spring of 2016.
The restaurant development is expected to be ready to open around the same time.
Abroms said they've received "good interest" from casual restaurants for the outlots.
"Overall, we're very pleased with the interest we're getting so far and it's just the beginning," he said.
In addition to the 18,000 employees that work in the Union Centre Boulevard district, about 118,000 cars per day pass the site on I-75.
West Chester is in the middle of a hotel boom, too. A 125-room Hilton Garden Inn opened earlier this fall, Homewood Suites is building a 112-room hotel near the southbound ramp to I-75, and Holiday Inn is building Center Park, a 116,000-square-foot event and conference center with 130 rooms just across the street from Ikea.
The Streets of West Chester is a 170,000-square-foot development that sits on about 25 acres and includes retailers Barnes and Noble, Loft, J.Jill, Jos. A. Banks and Chico's along with the AMC West Chester 18 theater, Mitchell's Fish Market, Bravo! Cucina Italiana and P.F. Chang's China Bistro.
LPC Retail purchased the center in a joint venture with American Realty Capital in April for $40.5 million.
LPC Retail and American Realty Capital are planning a $30 million second phase on the 16 acres of undeveloped land south of the existing retail project.
http://www.bizjournals.com/cincinnati/news/2014/11/18/west-chester-development-on-the-hunt-for.html