Voice of America MetroPark, UC Health Celebrate Grand Opening of UC Health West Chester Hospital Fieldhouse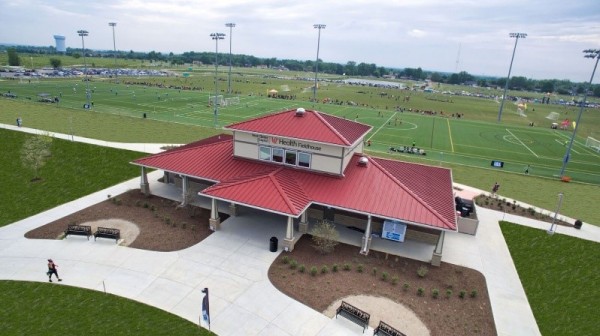 Butler County, OH (June 19, 2018) – Following the successful five-day U.S. Youth Soccer Midwest Presidents Cup tournament held at Voice of America MetroPark through a collaboration with the Butler County Visitors Bureau, the park system will celebrate yet another milestone this Friday.
The grand opening of the UC Health West Chester Hospital Fieldhouse will be held 3 to 5 p.m. Friday, June 22 at the Fieldhouse. The public and members of the news media are invited to join the celebration.
"We are extremely proud to serve West Chester Township and all of Butler County, and we look forward to the even greater sense of community that the UC Health West Chester Hospital Fieldhouse will bring to this region," said UC Health President & CEO Richard P. Lofgren, MD.
The fieldhouse was made possible by a $1 million partnership with UC Health and a $500,000 capital grant from the state of Ohio awarded for the project's ability to serve as a positive economic driver for the region.
"Thanks to a partnership with UC Health and the support of our local legislators, this project will be a great addition to the Athletic Complex and a positive economic impact to the region," said Gregory T. Amend, President, MetroParks Board of Park Commissioners.
Since the opening of the Athletic Field Complex in 2014, it has provided over $12 million dollars in economic impact in both 2015 and 2016. 2017 numbers are not yet available.
In addition to UC Health West Chester Hospital, the State of Ohio, and the Butler County Visitors Bureau, other partners at the complex include West Chester Township, the Ohio Department of Transportation and The National Park Service.
The budget for the entire project, including the cost of the Fieldhouse, site work, parking, landscaping, and all utilities totaled $3,230,000. The cost of the Fieldhouse itself was $1,367,000.
The building encompasses 6,137 square feet under roof, including porch areas, with 2,855 square feet of interior space. The most significant interior spaces include a First Aid Station staffed by UC Health, a second story Press Box for tournaments or reservable public space at other times, a concession stand staffed for tournaments, and modern restrooms.
The site also features a 1-acre great lawn, 3,500 square-foot outdoor viewing terrace, and over 400 new paved parking spaces for convenient parking.
The Athletic Field Complex expects to welcome approximately 100,000 athletes and spectators during the 2018 season with the currently scheduled 17 tournaments. This attendance figure does not include fields regularly reserved for practice during the week.
The criteria architect for this design build contract was McGill Smith Punshon and the contractor was Conger Construction Company, Inc.
###
About MetroParks
Established to complement the work of state and local communities, MetroParks, a separate political subdivision of The State of Ohio, is organized to provide parks and recreation services to the citizens of Butler County. MetroParks is governed by a three-member Board of volunteers, appointed by The County Probate Court, The Board of Park Commissioners. The Mission of MetroParks is to provide a superior park system that maximizes the community's quality of life through conservation, education and recreation. For more information regarding MetroParks visit our website at www.YourMetroParks.net
About UC Health
UC Health is an integrated academic health system serving the Greater Cincinnati region. In partnership with the University of Cincinnati, UC Health combines clinical expertise and compassion with research and teaching – a combination that provides patients with options for even the most complex situations. Members of UC Health include: University of Cincinnati Medical Center, West Chester Hospital, Daniel Drake Center for Post-Acute Care, Bridgeway Pointe Assisted Living, University of Cincinnati Physicians (includes nearly 900 board-certified clinicians and surgeons), Lindner Center of HOPE and several specialized institutes including: UC Gardner Neuroscience Institute; UC Cancer Institute; UC Heart, Lung & Vascular Institute; and UC Diabetes & Metabolic Disease Institute. Many UC Health locations have received national recognition for outstanding quality and patient satisfaction. Learn more at UCHealth.com.