UNION CENTRE BOULEVARD/ I-75 DIVERGING DIAMOND INTERCHANGE EARNS TRANSPORTATION IMPROVEMENT AWARD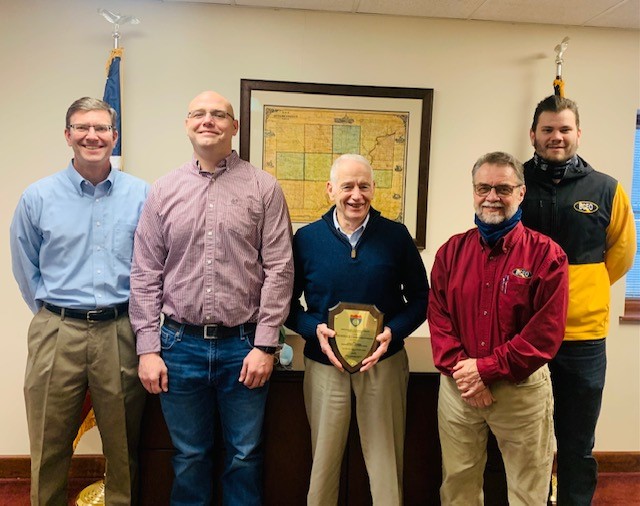 The Butler County Engineer's Office is pleased to report the recent honor of receiving the 2020 Donald C. Schramm Transportation Improvement Award for projects over $5 million. The Union Centre Boulevard at I-75 Diverging Diamond Interchange (DDI) project garnered this distinguished award for owners Ohio Department of Transportation and Butler County Engineer's Office, design firm Jacobs, and general contractor John R. Jurgensen Company.  Nearly a $20 million investment in Butler County infrastructure, the DDI was built in cooperation with and was funded by West Chester Township.
The American Society of Highway Engineers-Triko Valley Section's award presentation on May 18, 2021, recognized transportation improvements completed in 2020 that improve efficiency, safety, and quality of life. "When we look at safety, it is the number one criterion of almost every project we build. It's not for the glory or to be number one. It's got to provide safety for our citizens," said Butler County Engineer Greg Wilkens of the significant project. Allowing for free-flowing traffic at a higher capacity with additional lanes and a safe pedestrian crossing, the DDI efficiently eases congestion with fewer conflict points at the interchange and on Union Centre Boulevard.
"West Chester Township applauds Engineer Greg Wilkens for his innovation in bringing forward the DDI configuration as an option for keeping the traveling public safe and enhancing the viability for future investment at the Union Centre Boulevard interchange," said West Chester Township Administrator Larry D. Burks. "Corporate investment in West Chester makes these types of projects possible."
The successful collaboration between the BCEO and West Chester Township is a major contributor to continued economic growth along the I-75 corridor. Wilkens adds, "Without this partnership, a project of this magnitude would not have been possible."