Topgolf's reach extends beyond Butler County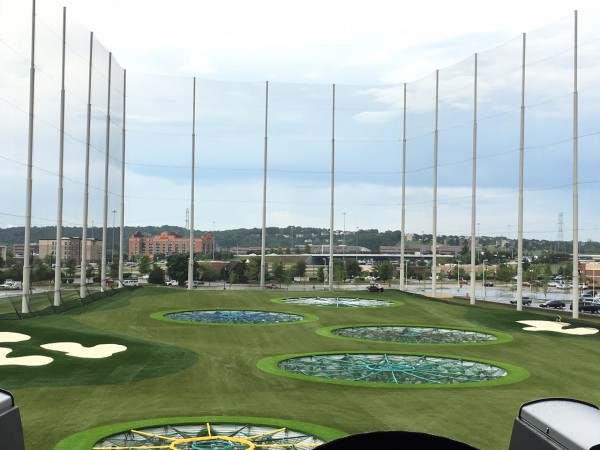 WEST CHESTER TWP. —
Topgolf's first Ohio location swings into action next week and its clientele of golfers and non-golfers are expected to create a more than $260 million economic impact over the next 10 years in Butler County.
The 64,232-square-foot facility is Topgolf's 27th location nationwide and its first in Ohio. It's projected to attract visitors from not just Cincinnati and Dayton, but also draw communities even farther away, according to Adrienne Chance, director of corporate communications.
"This is an important location for us," Chance said. "We're really trying to expand in the Midwest and the Cincinnati-Dayton area is so fast growing. It's booming … and we actually project people will come from up to 40 miles away."
Located just off Interstate 75's Union Centre Boulevard exit, the new attraction features 102 climate-controlled hitting bays that are able to host up to six players at one time no matter what the weather.
Topgolf's appeal is linked to its state-of-the-art technology in a social, scenic atmosphere. Guests rack up points by hitting microchip-embedded golf balls into one of 11 colorful, illuminated target areas from 20 to 240 yards on the outfield.
Amanda Sphire, of West Chester Twp., said part of the Topgolf's "totally enjoyable" appeal to non-golfers is its "no pressure" atmosphere, where golf balls rack up points by simply landing in a target area, not an actual golf cup.
"You just go up by yourself and hit the ball out," said Sphire, who had never golfed before a Wednesday preview event. "It's different than going to a golf course where there's people behind you that are waiting for you or you might hit a person or a car or whatever. This is just totally … you just feel relaxed, you feel like you're just having a great time."
Sphire said the new attraction would bolster a growing entertainment scene that now includes Main Event Entertainment and AMC West Chester 18 next door, multiple restaurants and a nearby IKEA retailer as well as the $350 million mixed use Liberty Center development a few miles north.
Golf isn't the only thing available at the new attraction. There are 230 high-definition flatscreen TVs and an extensive food and beverage menu as well as private event space, pool tables, a shuffleboard table, foosball and fire pits.
Founded in 2000, Dallas-based Topgolf plans to open seven to 10 venues a year over the next few years.
Economic output in West Chester alone is expected to surpass $264.5 million over a 10-year period, according to a third party audit. An estimated 450,000 visitors are expected in the facility's first year of operation.
http://www.journal-news.com/news/business/topgolfs-reach-extends-beyond-butler-county/nr3ps/