TopGolf eyes Greater Cincinnati location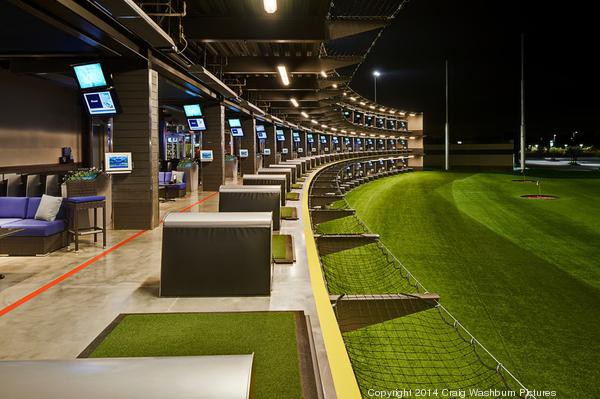 TopGolf International Inc., a sports entertainment complex that combines social, athletic and entertainment offerings, plans to open its first Ohio location in West Chester Township.
Dallas-based TopGolf submitted plans to West Chester to build a three-level, more than 64,000-square-foot recreational entertainment facility that has 102 hitting bays at the second phase of the Streets of West Chester.
TopGolf is like a driving range turned up to 11. Players hit golf balls containing computer microchips that track each shot's accuracy and distance while awarding points for hitting targets on the outfield. Nearly half of TopGolf guests describe themselves as non-golfers, according to the company.
Each TopGolf facility has a full food and beverage menu, music, games, climate-controlled hitting bays and hundreds of HDTVs.
A TopGolf spokeswoman said the company couldn't confirm that it would open a location in West Chester at this point, but the company is very interested in this market.
According to a staff report to the West Chester Board of Zoning Appeals, TopGolf requested zoning changes to allow for its 170-foot-tall net poles, which is 50 feet higher than the current zoning; to allow parking closer than four feet to the side and rear property line, closer than 25 feet to the front property line and building signage in excess of the permitted 4 percent. TopGolf received approval for the changes at the Board of Zoning Appeals' April 8 meeting.
The entertainment facility would be located along the east side of the expanded Civic Centre Boulevard that will connect to Allen Road. The facility, driving range and parking lot would cover about 9.5 acres, according to the staff report.
The typical TopGolf creates 450 full- and part-time jobs, according to the company's news releases.
LPC Retail, the new owner of the Streets of West Chester, announced last July that it was starting pre-development leasing and marketing for a 200,000-square-foot expansion scheduled to open in spring 2016. Another potential tenant for the expansion is Dallas-based Main Event Entertainment, which combines bowling, laser tag, karaoke, rock climbing and video games along with a bar and grill.
The closest TopGolf location is just outside of Chicago, in Wood Dale, Ill.
TopGolf, which was founded in 2000, has 16 locations serving more than 4 million guests annually. The company plans to have 100 sites around the country. According to Business Courier sister publication Dallas Business Journal, TopGolf plans to open locations in 13 other cities, including Oklahoma City, Atlanta and Virginia Beach, Va.
http://www.bizjournals.com/cincinnati/news/2015/04/16/topgolf-coming-to-greater-cincinnati.html?ana=e_du_pub&s=article_du&ed=2015-04-16&u=tBmD2vXOO43GkvBi9gAy1GAUhYr&t=1429272223&page=all