Tom+Chee considering Butler County location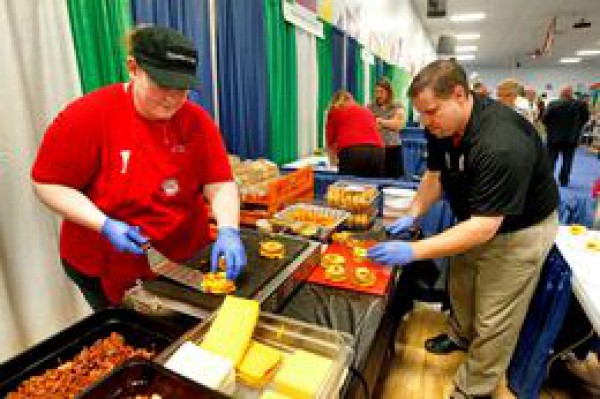 Tom+Chee founders Trew Quackenbush and Corey Ward spoke at the West Chester-Liberty Chamber Alliance Business Expo luncheon this week, then sat down with the Journal-News to answer five questions about their burgeoning tomato soup-and-grilled cheese business.
What was the idea that really got Tom+Chee rolling?
Trew Quackenbush: "The biggest thing is when Corey and his wife came back from New York City and they saw a lot of one-off restaurants doing things really, really great, but one thing, and so we noticed that we didn't have anything like that in Cincinnati, especially around Fountain Square where we went to go watch music and things like that. You had to leave the square to go get food and then come back. We talked about how we could get something on the square. Once we figured out we wanted to do something, it was just finding out what we wanted to do and bouncing ideas off of each other."
Corey Ward: "At the end of the day, lack of funds is a great motivator. It cancels out a lot of your options. It's like 'Well, we can't do these eight things, so that leaves two.' It's just a matter of picking from there."
How did being on ABC's "Shark Tank" in 2013 help take Tom+Chee to the next level?
Ward: "'Shark Tank,' I would say, propelled our business five years ahead. It was just, it was an onslaught of just attention and people wanting to be involved. We had over 17,000 franchise requests. It aired on Friday. It took us until the next Thursday to get (requests) from all 50 states, because New Hampshire hung on for almost a week. But besides like all 50 states, it was Canada, Mexico, Ireland, the Czech Republic, United Arab Emirates, Dubai, Vietnam … which was really crazy to see that, I mean, there was that much exposure. As soon as it aired, you hit that line where everybody wanted a piece of Tom+Chee and you had so many people contacting us, so many vendors and this and that. It was more about trying to sort through that mess."
Where is Tom+Chee at right now when it comes to the amount of locations and franchisees and what comes next for the company?
Quackenbush: "We just opened up our 12th location. We have 12 stores open. In the pipeline, we have at least 30 more stores to open this year and after that, next year is still packed with 30 franchisees already signed up, 20 different states we're in, so we're going to be busy for the foreseeable future. We know we want to sign more franchisees. We don't know a definite number of where our growth caps at, but I know that we're going to open as many as we can."
How much of your plans at this point include Butler and Warren counties?
Ward: "Internally, with the company, we're focused on keeping all of our restaurants within the (Interstate) 275 loop just so we can get to them within 20-25 minutes and just make sure they're working the way they should. The idea is everything outside of that would be through franchisees."
Are there any plans you know of for Tom+Chee franchisees outside the loop?
Ward: "I know that they're looking at the Union Centre area and then I know that he's got multiple locations that'll be scattered around the whole loop from here down to Northern Kentucky. There's discussion about particular locations right now and leases being tossed back and forth."
Quackenbush: "They run the day to days, we are involved in the site selection process. We aid in the lease negotiation as far as making sure we're protected, but most of that goes on to the franchisee to take care of their stuff."
http://m.journal-news.com/news/news/tomchee-considering-butler-county-location/nfyJ6/