Title office relocation aimed at improving customer experience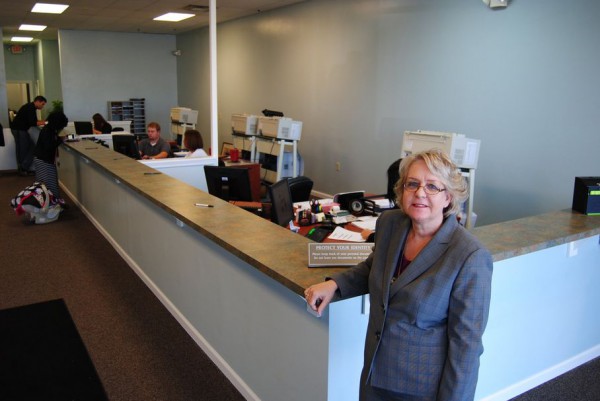 WEST CHESTER TWP. —
Steady growth in the amount of titles handled by the Butler County Clerk of Courts' Title Office here required a larger, more functional location.
That's why the office moved Monday to a new location at 4872 Union Centre Pavilion Drive, at the southeast corner of Ohio 747 and Union Centre Boulevard.
The office, which processes vehicle titles, watercraft titles and passports applications, outgrew years ago the location that had operated on Smith Road since 1995, according to Clerk of Courts Mary Swain.
The $45,000 office relocation and redesign came from title funds, not taxpayer money, Swain said.
"We were still careful to watch every penny that was spent," she said, calling attention to furniture that had been taken from other county offices that had closed.
Located in the approximately 146,000-square-foot Union Centre Pavilion shopping center once anchored by Bigg's, the new title office location features many advantages that will benefit customers, including a quicker processing time. That's especially important because the West Chester office is the busiest of all county title offices for passport applications, Swain said.
"We actually did have times, especially on Saturday when people were there for their passports, where they were actually lined up out the door," she said.
In addition, the new location is easier to find and offers more plentiful parking, a larger lobby and an enhanced customer-oriented design.
The office draws customers from West Chester, Liberty and Fairfield townships, as well as from other parts of Butler County and even across county lines, Swain said.
"How convenient is this to stop right in here on their way home from work?" she said.
The new office also means five staffers from the title division get to work in an environment more conducive to work, rather than its former small, cramped space.
"They have a lot more space to spread things out," said Nicole Wilson, director of the title division. "Their other desks were very compact, so their paperwork was piled on top of each other."
She said the move also makes fiscal sense because the lease per square foot is less expensive at the new location. Having additional space means more opportunity for safe, secure file storage.
A grand opening open house event is in the works, but a date has not yet been finalized.
"We're looking forward to that," Swain said. "We'd like people to see what we managed to pull off here."
---
BUTLER COUNTY CLERK OF COURTS WEST CHESTER TITLE OFFICE
5-YEAR SNAPSHOT
VEHICLE TITLES
2010: 43,895
2011: 46,153
2012: 49,610
2013: 52,008
2014: 68,619*
PASSPORTS
2010: 2,208
2011: 1,905
2012: 2,090
2013: 2,222
2014: 2,303*
* - projected
Source: Butler County Clerk of Courts
http://www.journal-news.com/news/news/title-office-relocation-aimed-at-improving-custome/nhscc/