Surge of new dining options open in West Chester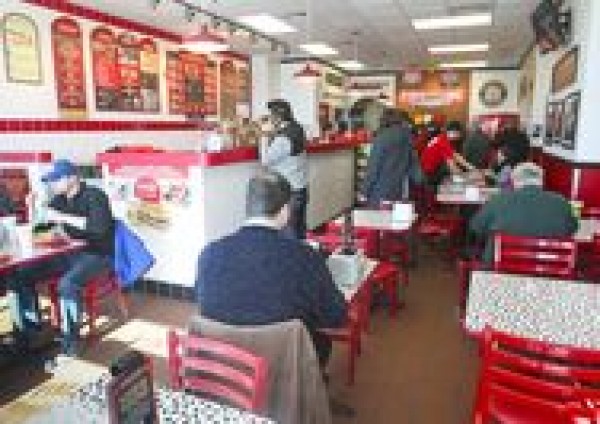 WEST CHESTER TWP. —
A surge of new restaurant openings in West Chester Twp. are giving local residents and workers new dining options.
Robert Tran opened Pho 96 Vietnamese Noodles on Jan. 23 at 7844 Kingland Drive, just off Tylersville Road, saying the busy roadway is commonly referred to as "Food Boulevard."
There's "everything in international food, but there was no Vietnamese. That's why I'm here," said Tran, a Liberty Twp. resident.
The 2,439-square-foot Pho 96 benefits from mealtime rushes from West Chester Hospital and corporate offices located nearby, Tran said.
Dancing Roll Japanese Restaurant, a sit-down and carry-out restaurant specializing in sushi and traditional Japanese cuisine, as well as Korean food, opened in October at 7759 Tylersville Road in the Kingsgate Shopping Center.
Sewol Jackson, Dancing Roll co-manager, said West Chester Twp. offers a laid back area with residents and employees who are friendly, "not like a downtown area." Half-priced sushi is offered all day along with other specials.
"West Chester is kind of the middle of everywhere and they didn't have any half-price sushi restaurants," she said. "It's simply a very good area."
Barjinder Singh said he opened India Palace Restaurant & Banquet Hall at 4958 Union Centre Pavilion Drive in November last year because of the growing local Indian community. It also helped that the shopping center in which the restaurant is located offered a reasonable rent and a convenient place from which to draw business from corporate employees, including GE Aviation.
The Florida-based Firehouse Subs chain opened in January a second West Chester Twp. location with different owners. The new location at 9336 Union Centre Blvd., owned by Sandra and Ron Herrmann, features steamed meats and cheeses and a Coca-Cola Freestyle drink machine with 120 flavors.
The Herrmanns also own a Firehouse Subs in Colerain Twp., and have a franchise agreement to open two more sub shops on Cincinnati's west side in future years.
"We think West Chester's going to be a great location. There's a lot of upside," for lunch and dinnertime foot traffic due to more township development such as three new hotels, Ron Herrmann said.
"I would say that the food is hearty and flavorful. We have a unique steaming process that brings out the flavors," he said.
Firehouse also donates a portion of sales and raises money for the local fire department.
Other recent restaurant openings include Milano's Atlantic City Submarines, a Dayton-area based sandwich and pizza business. Milano's opened in January its fourth restaurant, the first in the Cincinnati market, at 7701 Voice of America Centre Drive.
Patty Burger, a new fast-casual burger concept, tentatively plans to open its doors Feb. 12 at 9220 Allen Road and will offer sit-down dining, as well as delivery service.
Raising Cane's chicken fingers expects to open the first of four new greater Cincinnati locations this year in Butler County at 7806 Kingland Drive, off Tylersville Road.
---
MORE INFORMATION
1. Firehouse Subs
9336 Union Centre Blvd.
513-942-1800
Opened Jan. 14
Owners: Sandra and Ron Herrmann of Landen, Warren County
Hours: 10:30 a.m. to 9 p.m. seven days a week
2. Patty Burger
9220 Allen Rd.
Tentative opening Feb. 12
Owner: Wildcat Investments Inc.
Hours: 11 a.m. to 10 p.m. Mondays to Thursdays; 11 a.m. to midnight Fridays and Saturdays
3. Pho 96 Vietnamese Noodles
7844 Kingland Dr.
513-779-8448
Opened Jan. 23
Owner: Robert Tran of Liberty Twp.
Hours: 10 a.m. to 8 p.m. Tuesdays to Thursdays, 10 a.m. to 9 p.m. Fridays; and 10 a.m. to 4 p.m. Sundays
4. India Palace Restaurant & Banquet Hall
4958 Union Centre Pavilion Dr.
513-860-0500
Opened November 2013
Owner: Barjinder Singh of West Chester Twp.
Hours: 10 a.m. to 2:30 p.m. and 5 to 10 p.m. Mondays to Saturdays; 11:30 a.m. to 3:30 p.m. and 5 to 9 p.m. Sundays
5. Dancing Roll Japanese Restaurant
7759 Tylersville Rd.
513-755-6800
Opened October 2013
Manager Sewol Jackson of Fairfield
Hours: 11 a.m. to 2:30 p.m. and then 5 p.m. to midnight, Mondays to Saturdays; 2:30 to 9:30 p.m. Sundays
http://www.journal-news.com/news/news/surge-of-new-dining-options-open-in-west-chester/ndD3q/