Salons relocation to Olde West Chester means more space, services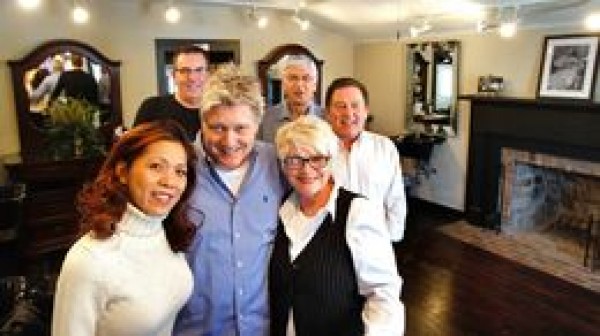 WEST CHESTER TWP. —
Cut Ups Salon built a following of loyal customers in the course of its more than two decades in business, but it wasn't until a recent relocation to Butler County that it found a home of its own.
"The idea was a basic barber shop down there (in the previous location in Sharonville), although we did have a massage therapist," said co-owner Howie Neal. "We just wanted to expand into more of a salon and be able to bring in cosmetologists instead of just being barbers."
Part of that flexibility came from almost doubling in size, going from a 900-square-foot storefront to a completely renovated 1,700-square-foot historic building at 8809 Cincinnati-Dayton Road in Olde West Chester.
Neal, who partnered with employee Shirley Bowman to purchase the new site, said although the business no longer offers massage therapy, it has expanded its host of offerings to include not only haircuts for men and women, but also color and hair extensions, in addition to professional nail care, manicures, spa pedicures, gel polish and nail design.
"We all kind of run together based on what our clients need," Neal said.
A West Chester Twp. resident for 21 years, Neal said he perpetually had his eye on the property, the original portion of which was constructed in the 1800s.
"I'd drive by this stretch of Olde West Chester all the time and I thought it would just be perfect," Neal said. "I looked at different buildings through here during the 23 years I was in Sharonville and between timing and price … it just never was right."
That all changed earlier this year when Neal purchased the foreclosed property and spent six months rehabilitating and renovating the structure.
"Once we got into it, it was worse than we originally had thought," Neal said. "It was in really bad shape, but I knew what it could be."
Replacing flooring, redoing busted plumbing and salvaging hardwood floors that were part of the original structure helped make the building look its best.
Among the employees is former Studio 42 Hair Salon owner Michael Faulkiner, who has 20 years of experience as a stylist.
"I've spent the last year in a loft suite and I was just waiting for the opportunity to move back into Olde West Chester, and Howie and Shirley presented me with the best option I had to do that," Faulkiner said.
For more information, call 513-563-0660.
---
IF YOU GO
WHAT: Open house for Cut Ups Salon, 8809 Cincinnati-Dayton Road, Olde West Chester
WHEN: 3 to 7 p.m. Dec. 28
REGULAR HOURS: 8:30 to 6 p.m. Tuesdays through Saturdays, but later appointments may be scheduled, if necessary. Noon to 8 p.m. Mondays, by appointment only.
CONTACT: 513-563-0660
http://m.journal-news.com/news/news/salons-relocation-to-olde-west-chester-means-more-/ncNzy/