Salon renovates 19th century building for new location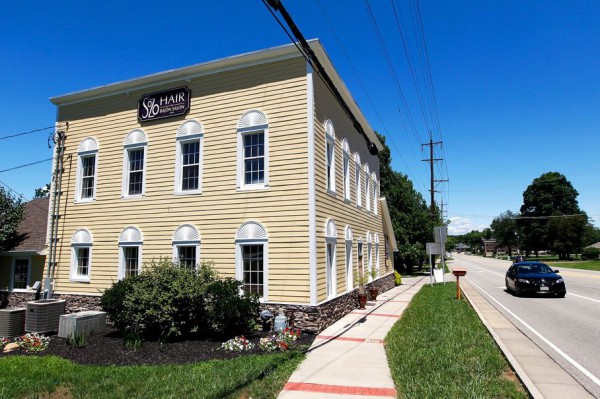 WEST CHESTER TWP. —
A salon that spent 14 years in one location is now in a new home with a nearly 180-year-old history.
Karen and Mark Welch moved SoZo Hair by Bajon Salon & Spa from 6072 West Chester Road to 9069 Cincinnati-Dayton Road, a building that dates back to 1835 and started off as a tavern, and went through various incarnations as a general store, restaurant and real estate office, according to the Ohio Historic Preservation Office.
The couple said they were looking to boost business, so they purchased the building in September and renovated the space. Moving from a 3,200-square-foot salon to one with 5,000 square feet of space means being able to offer more services in a "pretty, cozy and comfortable" location that includes two hair rooms, a mani-pedi room, treatment room and a color bar.
It also gives the business ample room to grow its services, which already include a wide array of hair, nail, massage and skin care options, Karen Welch said.
"We added spray tanning," Welch said. "We're always adding services that are coming that are new like smoothing treatments and certain types of nail polish that last longer. We're considering putting some quiet exercise like Pilates or something like that in the one big room upstairs."
A yet-to-be-developed space on the first floor, one Mark Welch calls "the Captain's Quarters," will be dedicated to male clientele, complete with a barber chair and flatscreen television.
"This is where a man can go if he wants to discreetly get his hair colored," said Mark, who is also a West Chester Twp. trustee. "An only-your-hair-dresser-knows-the-difference kind of thing."
Mary Jo Bicknell, president of the West Chester-Union Township Historical Society, said the organization is "tickled to death" that someone has taken in an interest in another historic building in the township.
"It's one of the oldest buildings in the township and to see somebody go in there with a business that seems like it's thriving and plans on staying in that corridor instead of just maybe selling it off or (turning it into) a development of some type, the historical society is very pleased with that," Bicknell said.
The new "SoZo" part of the business' name refers to a Greek biblical word for "to save, heal, protect and make whole," Karen Welch said.
"That's how we feel about our business, about our building, about the community and life in general," she said.
Cathy Myers, who got a color and cut on Tuesday, said she likes the new locations "a lot better" than the original one.
"I like the windows, the view. I like the bright colors," said Myers, who has been a customer along with her husband for the past five years. "You can tell they're excited to be here. We're happy to see them succeed in their next step."
The Welches say they are happy to be able to go from renting a space for a business to owning their own space, especially at the entrance to Olde West Chester.
"It's definitely exciting to be able to rehab something and keep it local," Karen Welch said.
---
IF YOU GO
WHAT: Grand opening celebration for new home of SoZo Hair by Baja Salon & Spa
WHEN: 6 p.m. July 25
WHERE: 9069 Cincinnati-Dayton Road in West Chester Twp.
RSVP: 513-874-9999
IF POSSIBLE: Bring a hygiene or cleaning supply to donate for the salon's outreach to the students of Arlie Boggs Elementary School in Eolia, Ky. Supplies are scheduled to be delivered Aug. 12.
Regular salon hours: 9 a.m. to 5 p.m. Monday; 9 a.m. to 8:30 p.m. Tuesday to Thursday; 9 a.m. to 5 p.m. Friday and Saturday.
For more information: www.bajonsalon.com
http://www.journal-news.com/news/news/salon-renovates-19th-century-building-for-new-loca/nggLp/