REPUBLIC WIRE OWNER REFLECTS ON HIS 40-YEAR COMMITMENT TO WEST CHESTER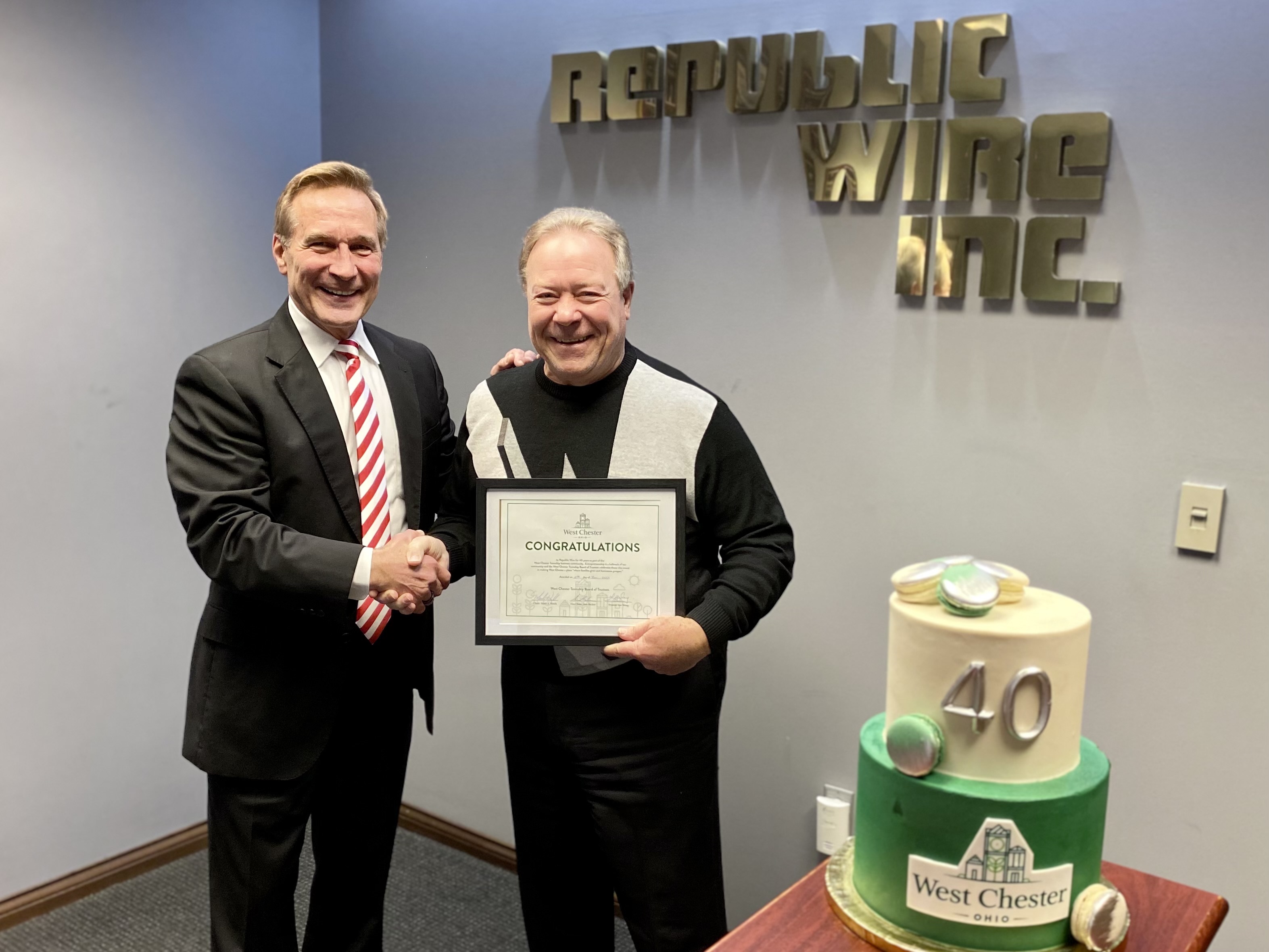 On the occasion of Republic Wire's 40th anniversary, owner and CEO Ron Rosenbeck shared this letter with the community:
This year is the 40th anniversary of Republic Wire.  The first 13 years we were a small wire broker and importing from Chile.  I knew my desire and company future was to manufacture copper wire.  I finally had enough equity to build a building and invest in equipment in 1994.
In 1994, I wanted land for our first building and heard West Chester was developing farmland and talked to Dick Alderson about the future of West Chester.  He convinced me an I-75 interchange was in the future.  I took the chance and the West Chester Trustees and Township helped in my development.  I moved Republic Wire from Fairfield to West Chester and we were the third building in the entire area. 
Our first building was 40,000 square feet and I had 27 employees.  We currently have 400,000 square feet and 160 employees.  Our current employee TEAM has been very important in our growth and successes.  I have children currently employed in Republic Wire.  Their positions are President (Jeremy), HR Director (Nicole), QC Manager (Heather) and Sales (Trent).
It took many years of industry research, equipment research and marketing development to create the vision of our company's future.  From the beginning, we have built the company on quality and customer service. 
Republic Wire expanded our sales team to cover the entire USA and Canada approximately 20 years ago.  We have added many copper and aluminum building wire products to our commercial, industrial and residential package to supply our customers. We sell to electrical, industrial and utility wholesale distributors. We have supplied copper wire to Disney World, Cape Canaveral, New York Freedom Tower, SoFi Stadium in L.A., Paycor Stadium, Great American Ball Park, Christ Hospital, Cincinnati Children's Hospital and many other hospitals in the United States.  We are proud to say 98% of our products are made in West Chester, USA.   
I have enjoyed the last 27 years in West Chester from a personal and business career.  We are currently considering building a 320,000 square foot building on 747 for our main distribution center.  We will add another 30-50 employees to our current staff and look forward to our Company's future in West Chester.
Thanks to West Chester,
Ron Rosenbeck
Owner & CEO