New road to open 100 acres for development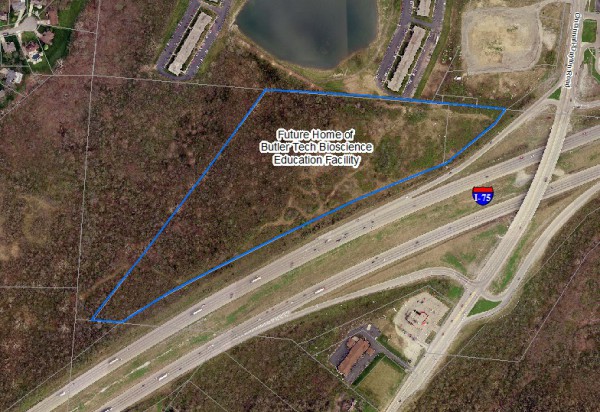 WEST CHESTER TWP. —
A new road expected to open up more than 100 acres of land for development will be financed by a workforce education facility.
The new roadway, Capstone Boulevard, will start at a driveway just off Cincinnati-Dayton Road and extend to the planned site of Butler Tech Bioscience Education Facility, which was scheduled to break ground June 14 for a 2015 opening.
The township will construct the $2.5 million road and be reimbursed over 10 years by Butler Tech, which petitioned Tuesday for a special assessment requesting that trustees construct a public roadway.
Trustees at their regularly scheduled meeting this week agreed in concept to initiate the process.
West Chester will borrow for the cost of the project against its general obligation, then construct the roadway, Boyko said. Butler Tech will incur the cost of the roadway via a 10-year assessment, the amount of time allowed for the trustees to borrow for construction of a new roadway.
Such a project usually would be financed via debt backed by tax increment financing dollars, said Judi Boyko, the township's administrator. Although the Butler Tech site falls within a TIF district, available funding would not cover the debt service payments, Boyko said.
Trustee President George Lang said Butler Tech's request gives West Chester the opportunity to get a free road, and noted plans for the site only shows where the road stops, not its future expansion.
"It's going to open up … 140 acres to future development, acreage that today for the most part is probably zoned agricultural that will be zoned business in the not-too-distant future," Lang said.
More businesses, he said, means keeping the tax base down for West Chester Twp. residents.
Ohio law allows trustees to maintain, improve and construct public roadways and to declare the necessity to do that, Boyko said.
Trustees on Tuesday also set 5:30 p.m. Monday as a time to meet at an existing driveway at Highland Greens Road and walk together along the projected path of the yet-to-be-constructed road.
Having trustees "walk the line" is a statutory requirement that occurs when property owners are going to be assessed for the cost of a road, township officials said.
A public hearing will be scheduled in subsequent weeks for all adjacent property owners.
http://www.journal-news.com/news/news/new-road-to-open-100-acres-for-development/ngKSX/