New restaurant offers Mediterranean menu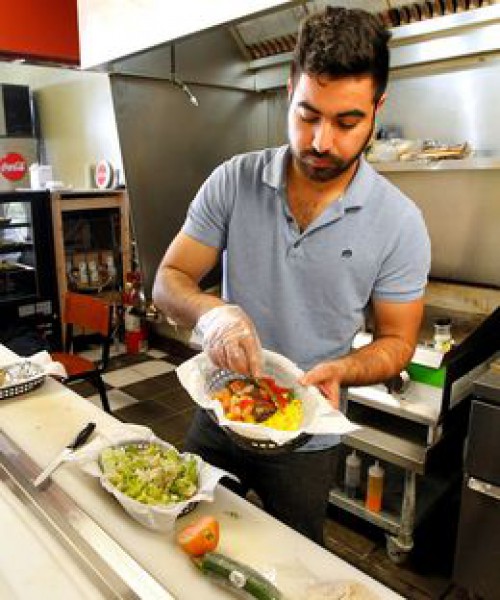 WEST CHESTER TWP. —
A new restaurant aims to offer freshly-made pita wraps and sandwiches at an affordable price.
Located just a third of a mile north of Interstate 75 at 8231 Cincinnati-Dayton Road, Tikka Grill serves everything from beef and chicken gyros, shawarma, shish kabobs and falafel to Philly Steak, burgers, teriyaki chicken and a chicken sandwich, for just $4.95 an order. A combo option costs an additional $2.35.
Zane Hamid of West Chester Twp, the restaurant's owner, opened the storefront next to Little Caesars in March.
Hamid, who was born in Iraq but raised in Jordan, said he has a passion for food and loves to cook, especially Mediterranean and Middle Eastern cuisine.
"We grew up around this food," he said. "Putting in an effort and getting feedback that the food is good and people coming back, it just makes me want to do this more and more."
Tikka Grill prepares everything fresh, Hamid said, including the tzatziki sauce, hummous and vegetables it uses in its sandwiches, salads and wraps.
Side orders range from grape leaves, baba ganoush and basmati rice to french fries, onion rings and mozzarella sticks and cost just $1.95 for each order.
Salads cost $4.95, but meat can be added for $2.35.
Hamid said he studied fast-dining options like Chipotle Mexican Grill and Wendy's to gauge how much food costs and at what price Tikka Grill should sell it.
"Just putting it in the budget kind of helps bring more customers because nobody wants to pay $10 for a sandwich at lunch these days," Hamid said.
Tikka Grill seats about 40 guests. Plans are in the works for the restaurant to offer party platters and catering options.
Hamid, who earned an associate's degree in graphic design from Sinclair Community College and a bachelor's degree in marketing from the Wright State University, said he employed the skills he learned in both schools to help launch the new business.
He said he envisions creating a franchise at some point.
"If we have the right idea, the right people, we can just expand it," Hamid said. "Keep everything simple, keep everything fresh, nothing complicated."
Tikka Grill is open from 11 a.m. to 9 p.m. Monday through Saturday. For more information, call 513-777-3237.
http://m.journal-news.com/news/news/new-restaurant-offers-mediterranean-menu/nfsSJ/