New restaurant offers homemade Italian cuisine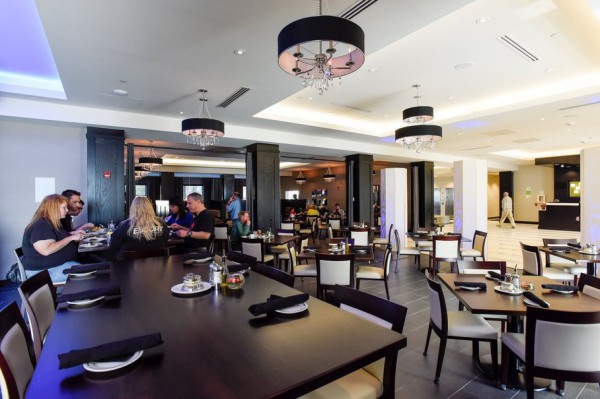 WEST CHESTER TWP. —
A new restaurant opening here Tuesday dishes out classic Italian cuisine in a trendy, elegant space with a laid-back supper club feel.
Located near IKEA in the recently opened Centre Park of West Chester, Johnny's Italian Steakhouse of West Chester is the company's first Ohio location and its 10th nationwide, following restaurants in Nebraska, Kansas, Iowa, Illinois and Wisconsin.
Johnny's covers the entire palate from certified Angus Beef steaks, chicken and pork to pasta, seafood, vegetarian and gluten-free options, said Derek Trebilcock, director of brand operations.
Lunch and dinner menus include a wide array of appetizers, salads, soups, sandwiches, entrees, desserts and daily specials.
"All of our food is made in house, made from scratch … and affordable," Trebilcock said. "Plus, we have unique items you cannot find at any other location."
That includes the Steak Deburgo, a signature dish made with beef tenderloin medallions, roasted garlic, fresh thyme, basil, oregano and a cream sauce.
A boxed lunch menu offers items for $10.
The Blue Bar, a square, back-lit signature element of all Johnny's, offers a tap of 12 local craft beers, an extensive 80-item wine list with unique, by-the-glass options and classic cocktails, including a martini and Moscow Mules.
Coming soon is a 300-bottle glass wine wall.
Both the decor and the music selection are meant to blend the sophistication of a bygone era with a modern edge, Trebilcock said.
But despite the restaurant's elegant ambience of crystal chandeliers, leather chairs, dark wood tables, high-back booths and curtained-off "restaurant inside of a restaurant" dining areas, there's no dress code for guests, he said.
"You don't need to be highfalutin," Trebilcock said. "You wear shorts and flip flops? We'll take care of you."
Children are welcome, a fact evidenced by the restaurant's kids menu, he said.
"We want that family to come and have mom and dad enjoy a steak, a glass of wine, a martini … but we also want the kids to come," he said. "Our goal is not to be that special place where people only come one time. Our goal is to be that everyday place."
Johnny's gives Centre Park of West Chester a triple threat that includes not just the restaurant and Holiday Inn services side of the event and banquet center's operations, but also its private event space, Trebilcock said. That includes a winding, outdoor garden and massive ballroom that can accommodate more than 700 people when unpartitioned.
"We do not treat our guests in that private event space as a number, we treat them as a guest of the restaurant," Trebilcock said.
Johnny's puts a heavy emphasis on a show, with the kitchen as an "orchestra," a chef as "maestro" and waiters as "performers," all of them going through a rigorous training process, said Aaron Hammond, Johnny's managing director.
"Service is key and nowadays (in other restaurants), that's falling apart," Hammond said. "This restaurant and this restaurant brand really hones in on that."
Johnny's is planning six new restaurants, including locations in Texas, Colorado and Wyoming by 2017, according to Ajay Singh, vice president of brand development for Heart of America Group, Johnny's parent company.
"We anticipate that Ohio will see another Johnny's in the not too distant future," Singh said.
---
IF YOU GO
WHAT: Johnny's Italian Steakhouse, serving breakfast, lunch and dinner
WHERE: inside Centre Park of West Chester, a banquet and event center and Holiday Inn located at 5800 Muhlhauser Road in West Chester Twp.
JOHNNY'S: 513-874-2744 or www.johnnysitaliansteakhouse.com/west-chester.
CENTRE PARK OF WEST CHESTER: 513-874-2744, centreparkhi@gmail.com or www.middletownhotelmanagement.com/centre-park-of-west-chester.
http://www.journal-news.com/news/news/new-restaurant-offers-homemade-italian-cuisine/nnz9g/