New physicians office in West Chester ahead of schedule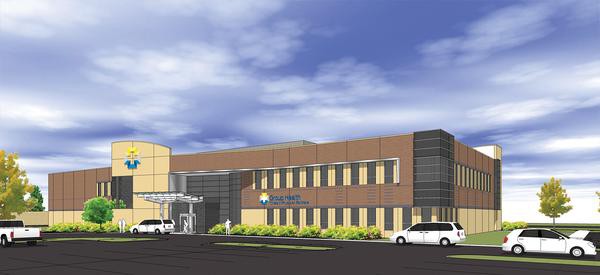 WEST CHESTER TWP. —
Construction will finish early on a new medical facility in West Chester Twp.
Cincinnati hospital system TriHealth is building a 50,000-square-foot location of Group Health Associates, a multi-specialty physicians practice, at 8040 Princeton Glendale Road.
The hospital network plans to close its Group Health office in Springdale once construction is complete, and will consolidate those workers into the West Chester facility. The Journal-News previously reported around 60 employees and 12 physicians from Springdale will move to West Chester.
Randy Hammann, director of support services for TriHealth, said relocation of the Springdale office to West Chester should be "seamless" for patients. The move will allow Group Health to add an additional 10 to 14 medical providers, including physicians and advanced practice nurses.
"We have a recruitment plan to fill the building," Hammann said.
Group Health Associates has 10 locations in Greater Cincinnati, including at nearby Bethesda Butler Hospital in Hamilton, with more than 130 physicians across 18 specialties.
The two-story medical office in West Chester will house a variety of health care specialties and services, including family medicine; orthopedics; rheumatology; podiatry; ear, nose and throat; endocrinology; obstetrics; pediatrics; allergy; dermatology; general surgery; colon and rectal surgery; digestive health; physical therapy; imaging; a laboratory; a pharmacy; audiology and hearing aid services; and conference rooms for public education, according to TriHealth.
"We anticipate gaining enhanced market visibility through providing these unified diagnostic and medical services at one convenient location," said Jerry Oliphant, TriHealth's executive vice president and chief operating officer. "This additional location supports our goal to make care more accessible and to provide more comprehensive services in West Chester."
Hammann said the Group Health offices operate using a "patient-centered medical home" model that increases collaboration among the medical providers to provide greater patient convenience and increased efficiency.
Features of the layout and design include the use of natural light; technology to allow patients to self-register and sign up for MyChart, an electronic portal for patient information; minimizing the distance for patients from check in to exam room; and an open waiting area, according to Hammann.
TriHealth did not release a total cost of construction, but has said the building will be owned by its general contractor, Duke Realty, and leased by Group Health.
Lyle Stiles, project manager at Duke Realty, said construction will wrap a couple weeks ahead of schedule, despite the rough and long winter. Construction began in September 2013, and is set to be completed this September.
"We had a pretty amazing group of contractors that worked through the adverse weather," Stiles said.
Stiles said the expected occupancy will be around Oct. 1.
http://www.journal-news.com/news/news/new-physicians-office-in-west-chester-ahead-of-sch/nfq83/