New owner plans to fill shopping centers remaining vacant storefront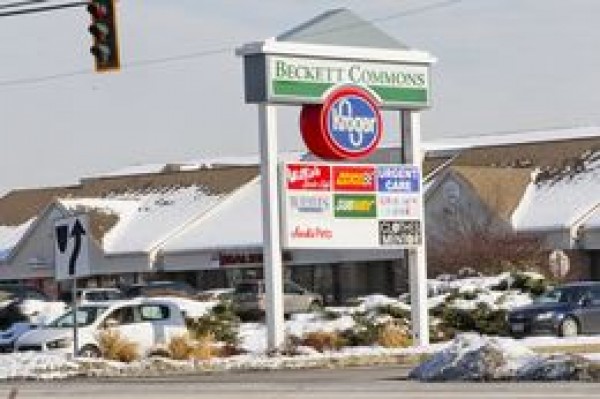 WEST CHESTER TWP. —
The new owners of a Butler County shopping center say the multi-million price they paid was well worth it because of its tenant lineup.
The Mid-America Management Corp., a Cleveland-based real estate investment firm, recently purchased Beckett Commons, a 121,315-square-foot shopping center on the corner of Princeton-Glendale and Smith roads, for $16.5 million, according to the Butler County Auditor's Office.
"It's a very appealing property because Kroger is a fantastic anchor store, a market leader in Cincinnati and a lot of other cities, and we liked the other tenants there that we think compliment Kroger," said Bill Stabler, director of retail development.
That includes Advance Auto Parts, Once Upon A Child and others, he said.
"It's a very good strip center that appeals to the community where it's located," Stabler said. "The visibility and the access are all good. We have other properties like that with food anchors and that's the appeal, really."
Constructed in 1991, the center underwent a $2 million renovation in 2011.
Previous owners Regency Centers did "a very nice job" with the shopping center, and Stabler said Mid-America Management expects to do the same, Stabler said.
"Because we're in Ohio and because we have other centers like that I'd like to think we know what the customers in that market would like," he said.
The company is in negotiations with two or three prospects to fill the shopping center's remaining vacant storefront, Stabler said.
"Let's just say that they would be similar to the uses that are there without conflicting with those uses," he said. "We would like to get a food user in there, but we have others who we're talking to others, as well."
The center's food options include Willie's Sports Cafe, Arby's, Subway and a Taco Bell/Pizza Hut.
"That type of diversity draws traffic," Stabler said.
Other tenants include Beckett Spirits, Clothes Mentor, GNC, Jack's Pets, Liberty Urgent Care, Plato's Closet, Sport Clips, The UPS Store and Widmer's Dry Cleaners, among others.
Mid-America Management Corp. has interests in retail, industrial and multi-family properties throughout the Midwest, including West Chester Twp., Dayton and northern Kentucky, Stabler said.
"You look at the properties that are available for sale and we aren't always able to buy a property where would like to own one," he said. "In this case, both of things came together — a market that we liked and a property that was available."
http://m.journal-news.com/news/news/new-owners-plan-to-fill-shopping-centers-vacant-st/ncH4r/