New GE Aviation agreement advances 3-D manufacturing technology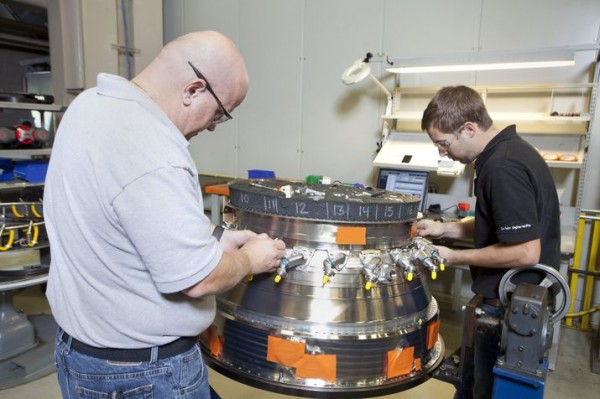 By Chelsey Levingston - Staff Writer
GE Aviation has made another deal related to 3-D or additive manufacturing, helping the company meet its goal of putting its first jet engine on the market in 2016 with components produced using the new manufacturing process.
Additive manufacturing, also known as 3-D printing, is a major trend in the manufacturing industry nationwide affecting how things are made. It is the process of creating solid objects from a digital file by printing thin layers of material one on top of another.
Traditional manufacturing takes a piece of metal, or other material, and machines it away to get to the end object.
On May 24, GE Aviation announced it signed a joint technology development agreement with Sante Fe, N.M.-based Sigma Labs Inc.
GE and Sigma are developing technology for testing product quality control of 3-D-made parts. Sigma has software and proprietary technology for examining a part while it's being built, said Matt Benvie, spokesman for GE Aviation.
What the Ohio company brings to the table is a history of manufactured parts. Sigma will incorporate product quality standards GE has established into its analysis for inspecting 3-D manufactured jet engine components, Benvie said.
Under the new agreement, GE and Sigma will be able to inspect parts while they're being built, second-by-second, something that's only possible with 3-D manufacturing, Benvie said.
In-process inspections are expected to reduce production times by 25 percent, according to GE Aviation.
"By conducting those inspection procedures while the component is being built, GE Aviation and Sigma Labs will expedite production rates for GE's additive manufactured engine components," Greg Morris, GE Aviation's business development leader for additive manufacturing, said in a statement.
That's important to the jet engine maker as the Evendale-based company ramps up engine production. Overall engine production by GE and GE's joint ventures will grow from 3,300 engines in 2012 to 3,600 engines in 2013, and 3,800 in 2014, the company previously said.
GE's next commercial engine to come to market is the LEAP engine in 2016, made by CFM International, a joint venture of GE and French company Snecma.
LEAP will be GE's first engine containing end-use 3-D manufactured parts; the fuel nozzles will be built using the process, GE Aviation CEO David Joyce told reporters in April. Each LEAP engine has 19 fuel nozzles.
The 3-D manufactured fuel nozzles will be made from a new, more heat resistant material — cobalt chromium, which can withstand higher temperatures reaching 3,000 degrees Fahrenheit, Benvie said. Fuel nozzles on engines in the air now are made from a nickel-based alloy.
Conventional fuel nozzles are made from 18 smaller pieces, whereas a 3-D manufactured nozzle is a single piece, Benvie said. The nozzles weigh less, with no pieces welded together.
3-D manufacturing also allows the jet engine maker to produce the fuel nozzle with built-in cooling pathways, Benvie said.
Estimates are that GE Aviation will produce more than 100,000 additive manufactured components by 2020 for LEAP and GE9X engines. GE9X is another engine under development.
The recent deal with Sigma follows GE Aviation's 2012 acquisition of 3-D technology through the purchase of Morris Technologies of Sharonville and sister company Rapid Quality Manufacturing of West Chester Twp.
Morris Technologies was renamed GE Aviation's Additive Development Center. Research there is investigating how to make more parts out of additive, 3-D building the machines that make additive parts, and investigating new alloy materials to be used, Benvie said.
Rapid Quality is now an additive lean lab, currently doing the production and research for additive-made fuel nozzles, Benvie said.
GE Aviation is headquartered in suburban Cincinnati, in Evendale, and has a supply chain that stretches the Interstate-75 corridor from Cincinnati to Dayton. CFM's headquarters are in West Chester Twp.