New food items tested at companys West Chester lab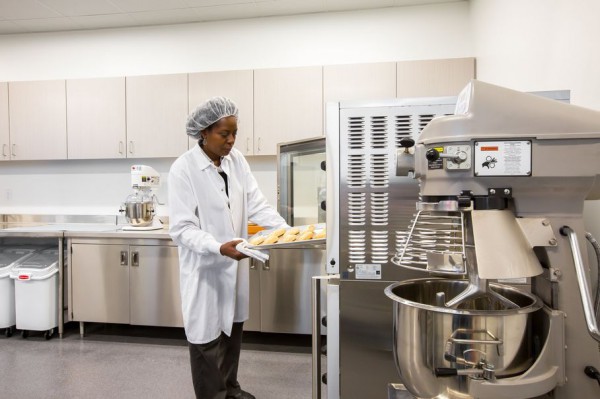 WEST CHESTER TWP. —
At the laboratories and test kitchen inside AdvancePierre Foods in West Chester Twp., stuffed burgers, pork rib patties and other food items are created and tested before becoming widely manufactured.
Eventually, new recipes and flavors for fully cooked meat products studied at the West Chester facility on Princeton Glendale Road make their way to be sold on the shelves of grocery and convenience stores, to restaurant food service suppliers, or for school lunches, said Chris Overbaugh, manager of protein research and development for AdvancePierre's West Chester plant.
When AdvancePierre moved its corporate offices from Butler County to new space in Blue Ash, it made room in West Chester to expand the research and development lab. Research space grew to about 6,000 square feet, allowing for a bigger kitchen and for co-development of food items with the help of AdvancePierre's customers, Overbaugh said.
"We've got cooking capabilities that match anything our customers have," Overbaugh said. "The more space allows us to turn around projects at a more rapid pace than we could in the past."
The new Research and Innovation Center — consisting of laboratories, test kitchen, storage and meeting space — opened after renovations in December. The center uses the same equipment found in home or commercial kitchens to prepare food including microwave ovens, steam-heating ovens, turbo chef-style ovens, convection ovens, grills and fryers.
The renovation was an important investment because about 10 percent of the company's annual sales come from new products, Overbaugh said.
"People's tastes change," he said.
Research is located at the same location as major meat processing facility. Overall, more than 1,000 people are employed in the township by AdvancePierre, which is the second largest privately-held company in the Tristate with approximately $1.6 billion in sales in 2014, according to the Deloitte Cincinnati USA Top 100 list.
Renovations are also underway at the West Chester plant on office space, where plans were previously announced in 2014 to open an administrative support center for finance, information technology, supply chain management and engineering services, according to the company. The cost of the investment in renovated office and development space was not disclosed.
AdvancePierre makes fully cooked beef, chicken and pork products and sandwiches that consumers buy at grocery stores, cafeterias and vending machines. It is also one of the largest suppliers of protein to school systems across the country.
http://www.journal-news.com/news/news/new-food-items-tested-at-companys-west-chester-lab/nqFZG/