New fitness center aims to put the fun in functional training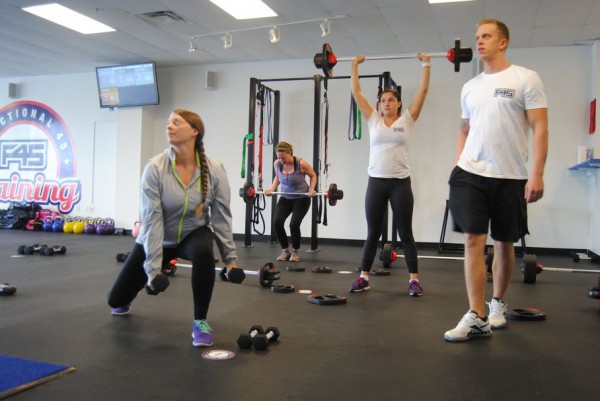 WEST CHESTER TWP. —
A new fitness facility here aims to offer innovative, cost-effective and results-oriented training in an upbeat, encouraging atmosphere.
F45 Training opened earlier this month at 4868 Union Centre Pavilion Drive.
Group-training workouts at the 2,200-square-foot facility change daily. Weekday workouts see members alternating between nine stations in either a 40-seconds-on, 20-seconds-off regimen or a 20-seconds-on, 10-seconds-off regimen, both with pulse-pounding music to keep them motivated.
Cardio-based classes are called "Athletica," while strength-based classes are called "Romans." Saturday's "Hollywood" workout is a mix of both and includes 27 different stations and a live deejay.
Jackie Zumberge, 31, of Fairfield, said her workouts at F45 are not only more instructional than gym workouts, they're also more fun and exciting.
"The music motivates you and the trainer is walking around, pumping you up and helping you also as you're doing each station the correct way," Zumberge said.
Based in Australia, F45 has more than 200 locations worldwide with large flatscreen televisions to display exercises and monitoring devices to track heart rate and calories burned.
Nathan Northrup, F45's owner, said he was trainer at a Cincinnati area fitness center when he looked into F45 and received an offer from the company to be flown to Australia to see the concept in action.
"I knew they were serious when they did that," Northrup said. "I just went over there and fell in love with it."
F45 provides "just as good, if not better results" as one could receive from a personal trainer for approximately one-quarter of the cost, Northrup said.
Many people using a typical gym don't know how to use exercise equipment correctly or push themselves hard enough, he said. That's not the case at F45.
"It's more of an investment, of course, but the results are almost guaranteeable, whereas if you join (a typical gym), over two years you might invest a few hundred dollars and look about the same," Northrup said.
Customers of all fitness levels are not only welcome, but also easily accommodated, said F45 manager Ashley Coon.
"We have modifications for everyone," Coon said. "Whether they're a college athlete trying to condition themselves, a high school athlete who wants to get in shape or just an everyday person looking to live a healthier lifestyle."
F45's program revolves around high-intensity interval training, which repeatedly shoots a customer's heart rate up and drops it back down, creating the maximum amount of calorie burn and helping to reap the benefits of cardio and strength training.
"That's been proven to be pretty much the only thing that has effects long after you leave," Northrup said. "Not only are you burning hundreds of calories while you're here for 45 minutes, but this type of training will keep you burning calories and boost your metabolism for anywhere up to 48 hours, depending on the person."
The F45 concept was introduced to the United States about 18 months ago, Northrup said. There are now four U.S. locations — West Chester Twp., Celina and St. Marys in Ohio and Lake Orion in Michigan. Future locations are planned for Las Vegas and Los Angeles.
Northrup said he'd like to open his next F45 location in downtown Cincinnati and then possibly another location in Butler County.
Heather Powalski, 33, of Maineville, said she's worked out via Pilates, Pound, Yoga and Zumba classes, but never was taught how to properly build strength via exercise and weights.
"This has helped me a lot, having someone walking around making sure that I'm doing the proper technique so I don't hurt myself, but at the same time I want to build muscle," Powalski said. "Every day I'm sore somewhere, which means that it's working."
---
IF YOU GO
WHAT/WHERE: F45 Training, 4868 Union Centre Pavilion Drive, West Chester Twp.
HOURS: 45-minute classes are held at 5:15 a.m., 6 a.m., 6:45 a.m., 7:30 a.m., noon, 5:30 p.m., 6:15 p.m., 7 p.m. and 8 p.m. on weekdays and 9 a.m., 10 a.m. and 11 a.m. on Saturdays. Hourlong personal traning classes are by appointment.
MEMBERSHIP: one-month of unlimited visits is $120. Three visits a week for a month is $80. Rates are discounted for military veterans, college students and high school students. Two-week free trials are availabe to all.
CONTACT: 513-874-4868 or nnorthrup@f45training.com
ON THE WEB: www.f45training.com/westchester
RIBBON-CUTTING: Noon on Friday. Includes demonstrations of various workouts.
http://www.journal-news.com/news/business/new-fitness-center-offers-functional/nmGp2/