New Butler Tech campus gets $2.2M in roads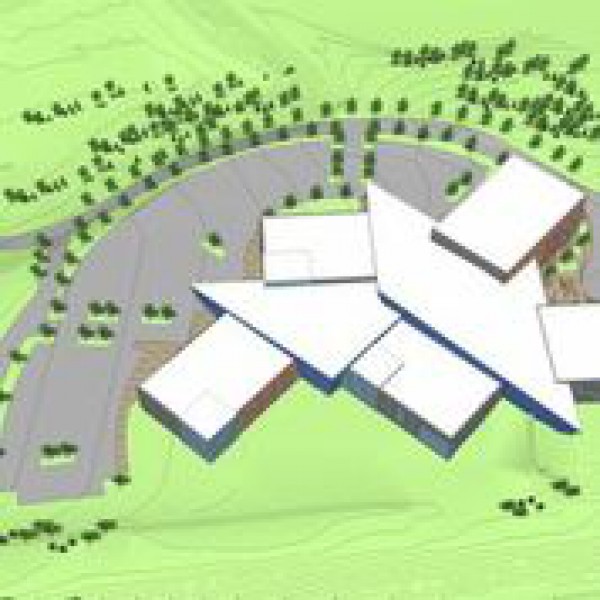 WEST CHESTER TWP. – Up to $2.2. million in roadway money for West Chester Township's new bioscience campus overlooking Interstate 75 was approved this week by township leaders.
Township trustees voted unanimously in approving the roadway projects to the 25-acre, Butler Tech's Bioscience Center campus under construction at the I-75 and Cincinnati-Dayton Road interchange.
The $13 million campus stands above the highway and is the latest, most visible addition to the township's booming I-75 business corridor through Butler County.
That interchange is the least developed of West Chester's four accesses to I-75 – on one the nation's busiest highways. Most of West Chester's commercial development centers on the Tylersville Road and Union Centre Boulevard areas, which are bustling with shops, restaurants, office buildings and entertainment venues.
"The Bioscience Center is a tremendous asset that will anchor the underutilized Cincinnati-Dayton, Interstate 75 interchange," said Judith Boyko, West Chester Township administrator.
The new Butler Tech campus is scheduled to open in August and will add to the township's growing bioscience industrial base that has so far garnered $100 million worth of investments in the 63,000-resident township.
The township recently was ranked 30th among Money Magazine's Top 50 Places To Live In America.
The campus roadway project, which will be overseen by the Butler County Engineer's office, will improve Highland Greens Drive from Cincinnati-Dayton Road. The project will also include creation of "Capstone Boulevard" allowing access initially for more than 400 adult and high school students to the 30,000-square-foot career school.
Additional buildings are planned for the campus in coming years to accommodate larger enrollments.
Southwest Ohio, particularly the West Chester area, has seen growing investments in bioscience and medical companies.
According to a recent University of Cincinnati study commissioned by the trade group BioOhio, there were about 9,957 employees working with 284 bioscience and medical companies at 387 locations in Southwest Ohio as of third quarter 2013. The average worker wage was $63,913.
A second phase of development at the Bioscience Center, adding 8,000 square feet of space, is planned for adult programming. Someday, Butler Tech officials envision an expanded campus with a community college and four-year university offering degrees in the health care and bioscience fields.
Bill Miller, superintendent and CEO of Butler Tech, said building construction is on schedule.
Miller said high school students already in the career school's bioscience and medical training program have begun pilot-program classes that will be moved to the new campus.
"This pilot will allow participants to be prepared to hit the ground running in emphasizing personalized learning, blended and project-based learning. The staff and current (high school) junior students are excited about participating in this educational experience as they prepare to move into the new facility," said Miller.