New burger restaurant opens this month in West Chester Township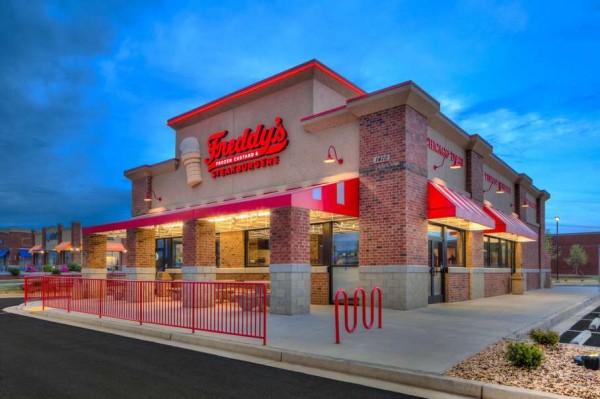 WEST CHESTER TWP. — A family-friendly restaurant chain with a presence in 30 states nationwide is nearly ready to make its Butler County debut.
Freddy's Frozen Custard & Steakburgers is scheduled to open in late October at 7615 Trailside Drive in West Chester Twp. in front of Cabela's.
Menu highlights of Freddy's include lean ground beef steakburgers, Vienna Beef hot dogs and shoestring fries, as well as custard treats prepared with freshly churned chocolate or vanilla frozen custard.
"After their first meal at Freddy's, many of our guests ask us what makes our food taste so good," said Matt Saunders, head of development for PSP Foods, a franchisee of Freddy's Frozen Custard & Steakburgers. "It's simple, really. We use quality ingredients, including premium, lean ground beef. And, we don't start cooking the food until after the order is placed."
Popular menu items include the Original Double burger — two thinly-pressed patties topped with Freddy's famous seasoning, two slices of cheese and a few fresh toppings, all on a toasted bun, Saunders said.
Another Freddy's favorite is its Signature Turtle dessert because the restaurant churns out its frozen custard fresh in the restaurant several times throughout the day, he said.
"It's denser, richer and creamier than ice cream due to a churning process that eliminates excess air and ice crystals," Saunders said.
Freddy's offers more than 30 toppings and mix-ins with which to top a custard, including several kinds of candy, fruit, syrups and nuts.
The 3,200 square-foot restaurant seats 100 guests with additional seating on the patio. Drive-thru service is also available.
"We are currently in the process of hiring team members for the West Chester location, and plan to hire approximately 85 local individuals," Saunders said.
It is the sixth Cincinnati-area restaurant for the fast-casual concept, which has stores in Amelia, Milford, Centerville and on Winton Road in Cincinnati, according to spokeswoman Lexie Pearce. A new store is scheduled to open on Red Bank Road in the next few weeks, she said.
To celebrate the opening, the new West Chester Freddy's will host a friends-and-family event the day before it opens to give its team members a chance to practice and perfect their skills following several days of training, Saunders said.
Hours of operation will be Sunday through Thursday 10:30 a.m. to 10 p.m. and Friday and Saturday 10:30 a.m. to 11 p.m.
http://www.mydaytondailynews.com/news/entertainment/dining/new-burger-restaurant-opens-this-month-in-butler-c/nsjdZ/?ecmp=newspaper_email##