New antique mall reviving West Chester shopping center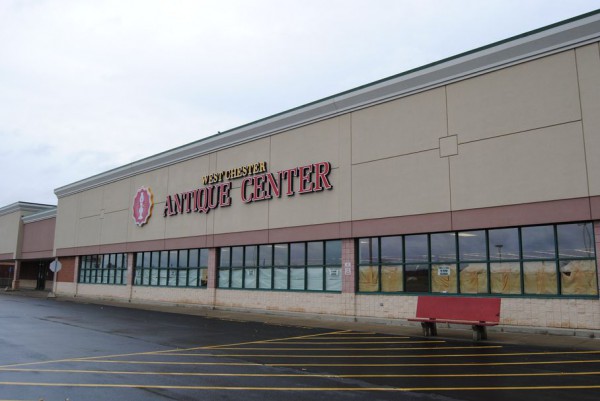 WEST CHESTER TWP. —
A shopping center that once emptied out following the departure of Bigg's in 2010 is showing greater signs of resurgence.
Located on the corner of Union Centre Boulevard and Ohio 747, Union Centre Pavilion is getting ready to welcome West Chester Antique Center at 4924 Union Centre Pavilion Drive in the nearly 70,000-square-foot storefront that once housed the grocery chain.
The store is gearing up open and feature 250 booths, 300 locked showcases and 50 display towers, according to Alex Wang, managing partner of ownership group Mega Antiques LLC.
Wang said Mega Antiques chose to sign a five-year lease with extendable options because of the shopping center's location.
"West Chester is a very wealthy area and they have a high average income and there's no antique mall here," he said. "So I think if we put an antique center here it will be a good fit for this area."
He said a similar shopping center in Washington Twp. — Washington Park Plaza — had many vacant storefronts until 64,000-square-foot Antiques Village opened in 2013 and those empty spaces filled "very quickly."
"I think this is a good fit for a high-vacancy property," Wang said. "The facility is a great facility."
In the past year, the shopping center has welcomed a host of new tenants, including Beer:30 Bar & Grille, Dai Trang Bistro, F45 Training, Global Vapors, Tandoor Cuisine of India and the Butler County Clerk of Courts' Title Office.
Mike's Carwash bought an existing car wash in the corner outlot of Union Centre Pavilion and is revamping it for a late November opening, according to Meghan Hollabaugh, marketing assistant for Mike's Carwash, a family-owned company founded in 1948.
The new location will be the company's 17th location and its ninth in the Greater Cincinnati area. It follows the company's acquisition of a Glenway Avenue car wash on Cincinnati's West Side from the same owner, Hollabaugh said.
"We've been looking at expansion plans in Cincinnati and trying to fill in some of our gaps here in the city," she said. "This (West Chester location) just allowed us the opportunity to do that."
At 120,000-square-feet, Union Centre Pavilion is classified as a neighborhood shopping center, complexes that typically have between five to 20 stores in their 30,000 to 125,000 square feet, making them larger than strip/convenience centers but smaller than malls and lifestyle centers, according to International Council of Shopping Centers classifications.
Cloud 9 Vapor Lounge, a 900-square-foot e-cigarette retail shop that opened in March 2014, was scheduled to open its new 4,800-square-foot storefront two doors down on Friday, according to Eric Anderson, who helps manage the store.
Anderson said Union Centre Pavilion "is definitely on the rebound," something he credits to current management of the center being "second to none" when it comes to helping existing businesses.
"When we first moved into our 900-square-foot location … there wasn't hardly anything in this plaza," he said. "Everything else seemed to be on this dying rotation."
Steady growth over the past year has led to only a handful of retail spaces being available, Anderson said.
"The big one was the antique center," he said. "Everyone was wondering what that was going to be. Once (the antique center) gets up and underway, it's going to breathe even more life back into this (shopping center)."
http://www.journal-news.com/news/news/new-antique-mall-reviving-west-chester-shopping-ce/npMGB/