Maternity services open this month in West Chester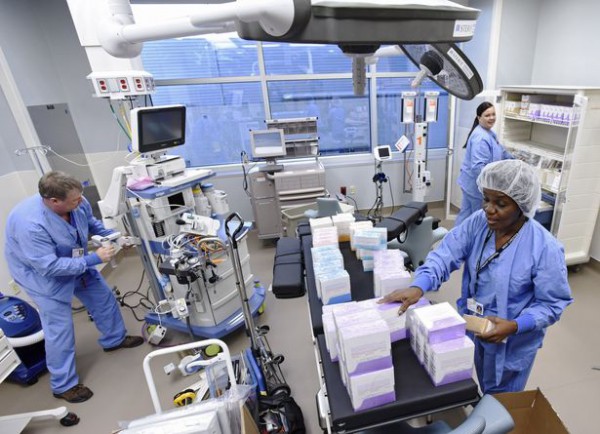 WEST CHESTER TWP. —
A lullaby tune will start sounding off in all parts of West Chester Hospital as each new baby is born there.
A $10 million maternity unit is set to open April 15 at the UC Health-operated hospital that anticipates 675 births in the first 12 months. The unit's long-term plan is to expand to handle 2,000 births per year as demand grows.
The new maternity unit, located on the third floor, includes eight spacious rooms for labor, delivery, recovery and postpartum; two obstetrical surgical rooms; a Friends and Family Lounge with kitchenette and fireplace; a well-baby nursery for seven babies; and a Level IIB special care nursery for up to eight babies.
"Not only is this a community hospital that's more homey and easier for people, but with all the specialists a couple would need," said Dr. Dana Lovell, medical director of maternity services and a practicing obstetrician/gynecologist for 21 years.
The hospital hired 66 staff members, including 46 registered nurses, for the new unit. It just so happened that all the RNs hired are women with at least five years of nursing experience, Lovell said. She added there were 500 applications received for the nursing positions.
The maternity unit will also be led by Elizabeth Tabor, a registered nurse certified in inpatient obstetric care, as director of nursing. She comes to UC Health from Premier Health's Miami Valley Hospital in Dayton.
Lovell said what sets West Chester Hospital apart from other community hospitals is the backing of UC Health and its multi-specialty practice group of over 700 board-certified clinicians and surgeons, including 24-hour obstetrics and anesthesiology.
"It will make their (patients') lives easier," Lovell said. "Right here in their backyard and you don't have the hassle of driving downtown."
Lovell said the maternity unit and special care nursery will be able to handle most high-risk issues, such as premature births, breathing problems of the baby and infections. She said the hospital has contracted with neonatologists from Cincinnati Children's Hospital Medical Center in Liberty Twp. for specialized care needs.
A community open house for the new unit will be held from 11:30 a.m. to 3 p.m. April 11 on the third floor. A year-long schedule of childbirth education classes is also being developed for 2015, including lactation consultants and diabetes education.
With hues of green and blue throughout unit, the family lounge also looks out onto an expansive mural of West Chester's past, present and future.
The mural — being completed by Higher Level Art out of Kentucky — includes images of the Voice of America Museum, the Union Centre Clock Tower, West Chester Hospital itself, a map of the area, and the impending Liberty Center development.
"It's going to be a great place for families," Lovell said.
http://m.journal-news.com/news/news/maternity-services-open-this-month-in-west-chester/nkk7K/