Local music, dance studio opens expanded location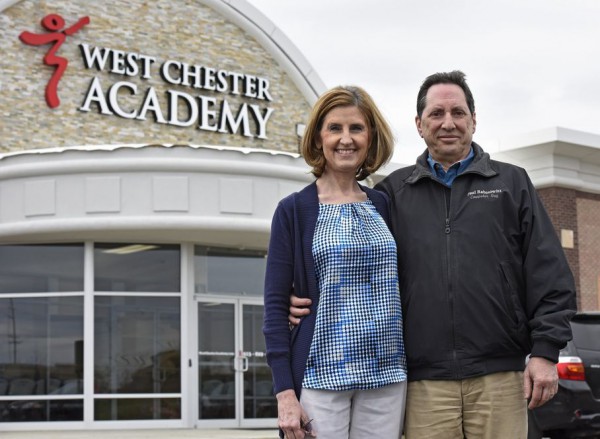 WEST CHESTER TWP. —
West Chester Academy had already expanded four times in a leased space in eight years, originally renting 1,737 square feet in 2007.
Now the business, which offers instruction in music, dance and acting, has constructed and moved into a 12,000-square-foot facility.
The additional space means the ability to introduce a gymnastics program launching in May for preschool and school-aged children, according to owner Patsy Rabinowitz.
"We've had several requests from parents for gymnastics and it just kind of fits with our model of incorporating a variety of activities under one roof for the convenience of the parents," Rabinowitz said. "A lot of time, the family will have one child who's really interested in voice lessons and another students who wants to do gymnastics or dance. If it's all here, then very often we're able to coordinate the different activities together at the same time for them so it saves them from running around here and there."
More space also means being able to have more rooms than ever, including 14 private music studios, 3 dance studios, a recital room and expanded waiting areas.
It also means expanding on the size of previous studios.
"The dancers can dance full-out," Rabinowitz said. "They don't have to stop short because a wall's right in front of them."
The new program means boosting staffing to a little more than 45 employees to serve the more than 1,000 students ranging from babies to senior adults.
The academy was founded nearly eight years ago by Rabinowitz, a musician with a master's degree in piano performance and more than 40 years of teaching experience. When she needed more space to teach piano lessons than she had in her home, Rabinowitz moved into leased space to offer music, dance and acting lessons to families in Butler and surrounding counties.
Designing the building was Rabinowitz's husband, Paul, an architect well familiar with the needs of such a facility.
"It serves the community better than we could at the other place. we had very small dance studios over there," he said. "Everything's bigger (here) and more suited to what we're doing."
He's also helped add several much needed features, like"floating" plywood floors for dance studios, sound-proof music classrooms, a vestibule to negate harsh weather and large television screens for parents to watch classes.
"Whatever people mentioned … if we could do it at all, we did," Paul Rabinowitz said.
"It's been a particularly gratifying journey for the two of us to kind of marry what we do and blend our talents and skills together," Patsy Rabinowitz said.
There's an added bonus to the new space, as her husband can now operate his architectural business from on-site.
"We get to be around each other 24/7, which is terrific," Paul Rabinowitz said.
---
HOW TO GO
WHAT: Grand opening event for West Chester Academy
WHEN: 2 to 5 p.m. Sunday, April 26
WHERE: 8107 Market Place Drive (just behind the Chase Bank at 8100 Market Place), West Chester Twp.
MORE INFO: www.westchesteracademy.com or 513-829-2345
http://www.journal-news.com/news/news/local-music-dance-studio-opens-expanded-location/nkxTF/