Kroger plans Marketplace store in Butler County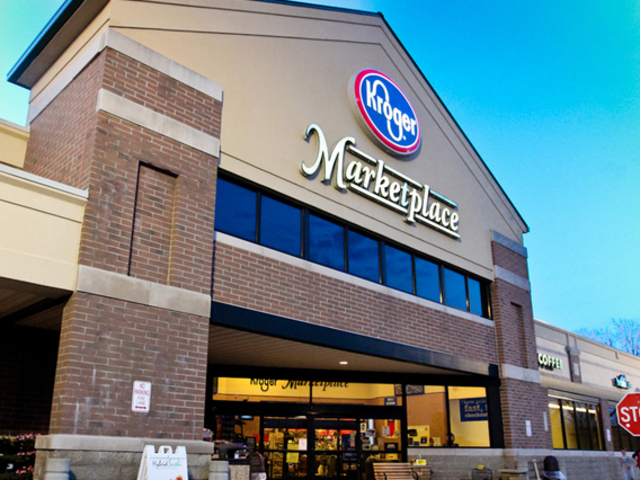 Cincinnati Business Courier
Kroger Co. has plans to replace a West Chester Township store with a much larger Marketplace store, according to a proposal by the property's developer.
Kroger's existing store in West Chester Plaza at the corner of Tylersville and Cox roads would be demolished and a 117,000-square-foot Marketplace store could replace it, according to a a proposal Regency Centers submitted to West Chester Township trustees July 11. It was the only one submitted after the township sought proposals for the sale of the neighboring West Chester Activity Center.
Regency, which owns and operates West Chester Plaza where Kroger's store now stands, offered to buy the Activity Center for $1.8 million and redevelop it into an expanded West Chester Plaza. That property would be anchored by a larger Kroger store. The property acquisition and redevelopment would expand the plaza from 10.5 acres to 20 acres, Regency said in its proposal.
Regency has been working with downtown Cincinnati-based Kroger (NYSE: KR), the nation's largest operator of traditional supermarkets, to build a new store to replace the 30-year-old building that's there now, Ryan Ertel, senior leasing agent in Regency's Cincinnati office, said in the proposal. That store covers 66,500 square feet. Ertel said Regency plans a 96,000-square-foot Kroger store for the expanded site. But it also has the opportunity to add an adjacent property. That would allow for the Kroger store to be even bigger, so it can become a 117,000-square-foot Marketplace store.
"It has been Kroger's desire for many years to convert the existing store to a Marketplace store," Ertel wrote in the proposal. 
Kroger's Marketplace stores include clothes, home goods and toys in addition to full-service grocery, pharmacy and health and beauty care departments. They're larger than its typical stores. 
Neither Kroger nor Regency commented on the proposal. West Chester Township spokeswoman Barbara Wilson said it's premature to comment on the proposal. She said even though Regency's was the only proposal, the trustees have several options to consider regarding the property. 
Regency would also include a Kroger fuel center and 15,000 to 25,000 square feet of retail space in the expanded plaza. 
Regency's proposal calls for the new Kroger store to open July 1, 2022. 
Kroger had a grand opening event for another West Chester store at 8000 Princeton-Glendale Road in January. That store is about five miles west of the store it's considering expanding into a Marketplace store.