Interactive adventure launches in West Chester next week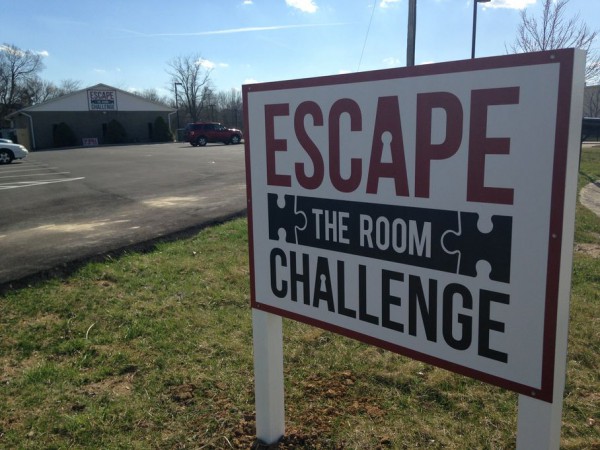 WEST CHESTER TWP. —
A Butler County entrepreneur is betting that a next-generation interactive adventure will spread like wildfire following its local debut next week.
Escape the Room Challenge is scheduled to open April 10, offering a "highly themed, simulated adventure" in which a group must problem-solve a series of clues, puzzles and mental challenges within an hour while possibly encountering a few misleading clues along the way.
"When you go in, you're immersed," said owner Don Oeters, who also created multi-award-winning EnterTRAINment Junction next door. "Everything about it is going to be very high-class. It's like a Disney production."
But despite that reference, the adventures at Escape the Room Challenge will be anything but child's play, and only those 14 and older will be admitted.
The new 3,200-square-foot attraction is based on the classic "Escape the Room" online video games in which players are trapped in a room and must find clues and solve puzzles in order to escape before the hour is up.
Oeters said the attraction is aimed at "the real gamers," as well as couples who love to go out and do things together and companies interested in a new way of team building.
Escape The Room Challenge will launch with two themed rooms, including Esmeralda's Curse and Escape the Mob.
Esmeralda's Curse places up to 10 gamers in a mysterious fortune teller's parlor, where a murder has been committed. Gamers have one hour to solve clues and escape before the gypsy curse descends upon the room.
Escape The Mob, which can accommodate up to eight players at a time, takes place in an old warehouse containing mob-stolen valuables. Participants have one hour to solve the clues and earn their freedom before the mob returns to commit "certain mayhem."
Oeters said he plans to open a third themed adventure in the space this August based on secret agents, one that will be "very high tech with laser beams and tons of really cool stuff" for up to 14 participants.
He said he plans to open a fourth themed adventure this fall but declined to elaborate on what its theme might be.
"I have an idea, but I want to hold it until we feel what the public wants and what they're looking for," Oeters said.
Each room will likely be changed out every 18 months or so, he said.
The total four themed rooms are expected to make Escape The Room Challenge one of the largest such escape attractions in the United States, he said.
Oeters started investigating the concept after his daughter raved about it following a trip to Europe in late 2013. He discovered a Columbus-based businessman who had launched 19 zombie-based adventures, but soon realized he could devise his own adventure-themed attraction with more attention to detail.
"I just ended up using my own creative people, including Bill Balfour and Danny Craven," Oeters said "Bill was in charge of entertainment at Kings Island for many years before Cedar Fair bought them. Danny has been involved in a lot of creative projects around Cincinnati. They, along with a couple of other people who are very creative, helped me take what I've seen and improve upon it."
---
IF YOU GO
WHAT: Escape The Room Challenge, 7391 Squire Court, West Chester Twp.
WHEN: 10 a.m. to 9 p.m. Fridays, Saturdays and Sundays starting Friday, April 10.
HOW: Admission tickets are by reservations only and are now available online atwww.escapetheroomchallenge.com.
Admission is $28 per person with group discounts available. Parking is free.
For more information, write to customerservice@escapetheroomchallenge.com.
http://www.journal-news.com/news/news/interactive-adventure-launches-in-west-chester-nex/nkjkZ/