IF YOU BUILD IT IN WEST CHESTER, BUSINESSES WILL COME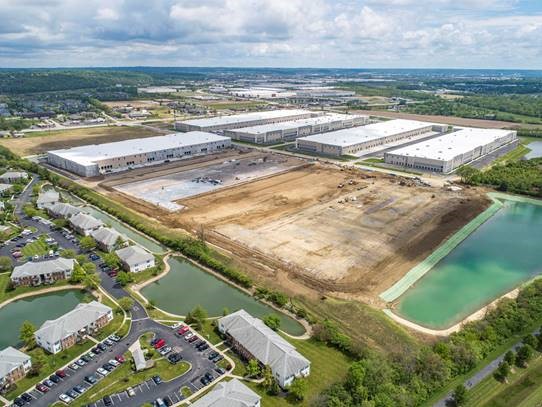 Developers know this to be true. 
NorthPoint Development continues to invest in the township as the West Chester Trade Center prepares to add another building to its more than 1.8 million square-foot master-planned industrial development off Union Centre Boulevard.  West Chester Trustees approved a zone change on a 24-acre adjacent site for NorthPoint to acquire the land adding a 240,000 square-foot building to what will become a 166-acre industrial park. 
NorthPoint chose this site in West Chester because of easy access to I-75 and I-275, which is the center of Cincinnati's proven manufacturing and distribution hub within 60% of the U.S. population.  West Chester Township's central location offers access to a workforce of 1.9 million within a 30-mile radius, a major attraction to many employers. 
"West Chester Township has been very welcoming and a great partner through the development of our buildings," said Rich Goodman, Project Manager with NorthPoint Development.
West Chester Township Board of Trustees saw community value in this project from the start. The Township collaborated with Butler County officials and Butler County Port Authority to partner with NorthPoint Development and use Tax Increment Financing District (TIF) funds to make public infrastructure improvements in support of this project.  In total, the Township invested $6.1 million to fund the public infrastructure on this site, which includes pedestrian pathways connecting nearby residential paths. 
Having the infrastructure in place allows the developer to bring the product to the market quicker and allows a company to get to the market quicker when they are looking for a place to locate.
NorthPoint began construction mid-2018.  The original agreement with West Chester Township was to complete seven buildings within six years, but they are way ahead of schedule with five buildings already complete and two currently under construction now.    
The development is projected to generate more than 2,000 new jobs and drive economic growth for Butler County.  Tenants at the development include GE Aviation Additive Technology's 3-D manufacturing facility, Fameccanica North America, TSC Apparel, GexPro, Entrematic, Pipe Products, Amarr, MSI Surfaces, Image Solutions and more. 

"It has been a pleasure working with NorthPoint Development and West Chester Township on this state-of-the-art development.  So many great companies are now calling West Chester Trade Center home and we look forward to welcoming more.  We can still accommodate 40,000 to 300,000 square-foot users, said Doug Whitten, Senior Vice President with CBRE.
Even with all the new space coming online, speculative industrial space fills up as fast as they build it and occupancy rates confirm this.  First quarter 2020 rates published by Colliers International confirm West Chester industrial buildings are 94% occupied.  Fourth quarter 2019 industrial occupancy rates were 95.1% for the Township. 
Also developing along Union Centre Boulevard by West Chester developers, Schumacher Dugan Construction is the new Mill Creek Logistics Center.  Schumacher Dugan began construction in 2019 on two new, four-star industrial buildings on Jacquemin Drive bringing more than 353,000 square feet to the market.  A long-time West Chester business and premier developer, Schumacher Dugan Construction is committed to quality construction and personalized service, and has completed thousands of square feet of new projects in West Chester Township.  Schumacher Dugan Construction was instrumental in the public-private partnership established to create the Union Centre Boulevard interchange in 1997.