Holtman's Donut Shop is coming to West Chester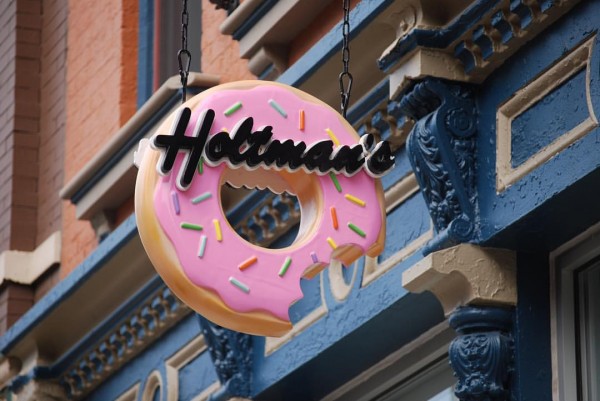 WHERE WILL HOLTMAN'S OPEN ITS NEXT LOCATION?
Cincinnati Enquirer, Polly Campbell
A lot of people wanted Katie and Dannie Plazarin to open a location of their family doughnut bakery, Holtman's Donuts, in their neighborhood or development. The location on Vine Street in Over-the-Rhine has created many passionate followers of their fresh doughnuts. "I had a stack that must have been nine inches tall of proposals and suggestions," said Katie Plazarin. "But we've been taking our time deciding, reading through all of them," she said.
Now they have a spot. The next Holtman's will be in the extension of the Streets of West Chester, across from the new golfing entertainment center Top Golf. It will be in a new multi-tenant building on a street that is being finished this month. said Plazarin. "We wanted to be somewhere our brand hasn't touched," she said. "But people in West Chester know about our doughnuts. And it's a nice little area that we feel will continue to develop."
The new space will be more than twice as large as the Over-the-Rhine Holtman's, with seating, an outdoor patio, cold and hot coffee. "It's sort of our dream shop, everything we've said we would do if we could," said Plazarin. The doughnut-baking and frying kitchen will be visible. "I think customers want to see the doughnuts made on site. That's one of the keys to our success."
And it will be replicable, possibly the first of more Holtman's. While the Vine Street store is their model, there will be new indoor graphics. And possibly new doughnuts. "We're constantly working on new ones," said Plazarin.
They hope the new store can be open in early 2017.
Holtman's got it start in the 1960s with Danny Plazarin's grandfather. His parents still own and make doughnuts at the Loveland location and for the Williamsburg store.
http://www.cincinnati.com/story/entertainment/dining/2016/10/24/where-holtmans-open-its-next-location/92681192/