Here is the plan for Cincinnatis first Cabelas store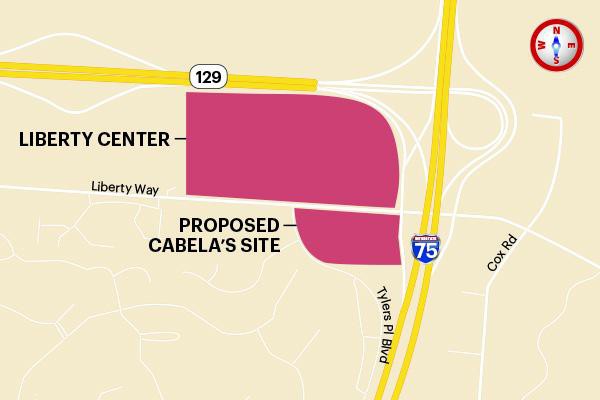 Tom Humes, CEO of Great Traditions Land and Development Co., has been waiting for more than a decade to develop nearly 50 acres of land at the northern edge of West Chester Township.
Now, Humes has detailed plans for the first 18 acres, a development that will include a state-of-the-art, 80,000-square-foot Cabela's, as well as additional space for restaurants, office or hotel development.
Cabela's Inc., an outdoor sports retailer with 50 stores in North America, has a letter of intent to build a store on about 11 acres of land closest to the west side of Interstate 75. The remainder of the first 18 acres will be divided into three parcels, one that is 2.5 acres and two that are about 1.7 acres each.
Humes said Cabela's is very selective about where the company opens stores. The retailer has been looking for sites in the Greater Cincinnati market for several years, Humes said.
"We're pleased they chose our site," Humes said. "They're the perfect anchor for us."
Cabela's is still going through its due diligence, but Humes was confident when talking about the project going forward. If all goes as planned, Cabela's is expected to start construction this fall and be open in the fall of 2015, around the same time as Steiner + Associates' Liberty Center project to the north.
Officials with Cabela's were not immediately available for comment.
Great Traditions submitted a revised preliminary development plan earlier this week. The plan will be considered at the West Chester Township Zoning Commission's July 21 meeting.
Cabela's will face competition for sporting and outdoor goods spending. Liberty Center, a $350 million mixed-use project, will be anchored by Dillard's and a Dick's Sporting Goods flagship store. Bass Pro Shops is building a 150,000-square-foot store, complete with a more than 10,000-square-foot restaurant and bowling alley called Uncle Buck's Fishbowl and Grill.
Humes traveled to Minnesota for a grand opening of a new Cabela's store to make sure the retailer would fit with the upscale Wetherington Golf & Country Club community just south of the site along Liberty Way.
"We were very impressed. They do a very nice job, with a high-end look," Humes told me. "It fits perfectly with the overall design and flavor of the area we wanted to create."
Cabela's stores sell thousands of products, including hunting, fishing, camping, hiking, boating and wildlife-watching gear, as well as clothing, outdoor-themed gifts and furnishings. The company is known for its strong brand and reputation for quality merchandise, value and customer service. Cabela's has announced plans to open an additional 18 locations across North America in the next two years. The closest Cabela's stores are located in Columbus and Louisville.
The development will have the same look and feel as Wetherington, incorporating the stone columns and horse park fencing that is used throughout. The road that leads into the site, Tylers Place Boulevard, will be expanded to handle the additional traffic.
In addition to the first 18-acre site, Great Traditions owns another 18 acres to the west and a little more than nine acres on the southeast intersection of I-75 and Liberty Way. Great Traditions is developing the initial portion of land itself, but Humes hasn't decided if it will do that with the remainder of its land. But he sees potential for more development.
"We know the area is going to improve more and more," Humes said.
http://www.bizjournals.com/cincinnati/news/2014/06/13/here-s-the-plan-for-cincinnati-s-first-cabela-s.html?ana=e_du_pub&s=article_du&ed=2014-06-13&u=tBmD2vXOO43GkvBi9gAy1GAUhYr&t=1402689008&page=all