General Electric fuels then fires up 3D-printed jet engine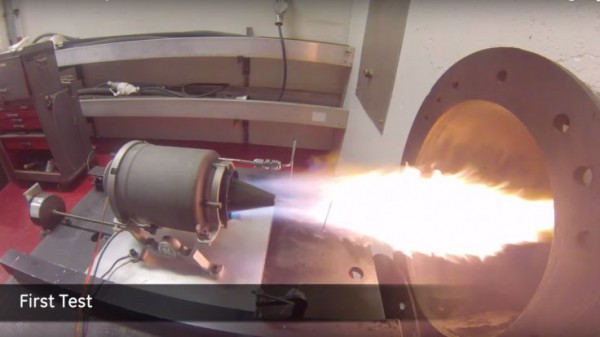 By International Business Times
Here's the first test of a GE mini-jet engine manufactured completely with 3D-printed parts (View on YouTube).
General Electric has created a working jet engine made entirely from 3D-printed parts.
The experimental mini machine is only the size of an American football so it's not going into any commercial jets. But it can roar up to 33,000 rpm and could power a model jet. The engine also isn't as complex as a commercial jet engine, but based on simpler remote-controlled plane engines.
The huge advantage of a printed engine one day will be far lower cost and eventually, speed in creating the product. A typical jet engine can take up to two years to manufacture.
This first small, "side project" effort, however, took several years and required a team of technicians, machinists and engineers at a GE Aviation's Additive Development Center outside Cincinnati.
"Additive manufacturing" is a state-of-the-art technique that can make complex 3D structures by melting metal powder layer upon layer. Traditional machining methods cut "pattern" parts out of large metal pieces. Additive manufacturing uses lasers to fuse thin layers of metal on top of each other in the printing process to build parts from the ground up.
"There are a lot of benefits to building things through additive," GE Aviation spokesman Matt Benvie said in a blog post. "You get speed because there's less need for tooling and you go right from a model or idea to making a part."
The Federal Aviation Administration recently approved the first 3D-printed component for a version of the GE90 jet engine.
Earlier this year, engineers from Australia's Monash and Deakin Universities and the Commonwealth Scientific and Industrial Research Organization created the world's first 3D-printed engines, also small. But the GE version was the first printed model actually fuelled and fired up.
http://www.ibtimes.co.uk/general-electric-fuels-then-fires-3d-printed-jet-engine-1501383
View the jet engine in action at https://www.youtube.com/watch?feature=player_detailpage&v=W6A4-AKICQU.