GE Aviation to research 3-D manufacturing in West Chester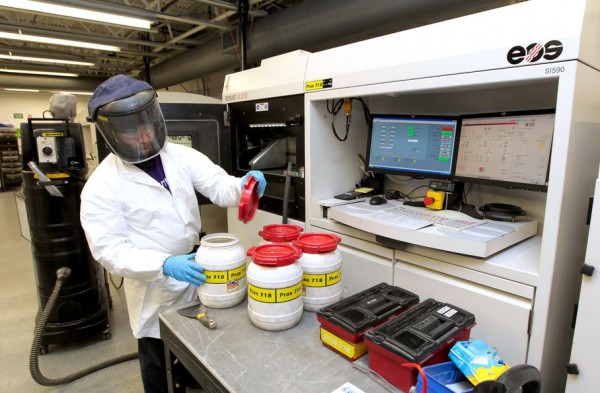 WEST CHESTER TWP. —
GE Aviation will soon call Butler County home of its Additive Development Center, where the jet engine maker will conduct cutting-edge research into advanced manufacturing technologies.
Evendale-based GE Aviation is consolidating all research and development activities into 3-D manufacturing, also known as additive, into a single West Chester Twp. site. Currently, the company's 3-D manufacturing activities are spread across multiple locations.
The jet engine maker will invest millions to open the facility and install equipment at 9701 Windisch Road, said Rick Kennedy, GE Aviation spokesman. A different division of General Electric Co. already leases space in the building.
Approximately 87 employees will relocate to the new West Chester Twp. center from other sites in West Chester at 5223 Muhlhauser Rd. and in Sharonville at 11988 Tramway Dr., Kennedy said. Over the next five years, the aerospace company expects to add about 50 new jobs at the soon-to-open, single-site additive research center.
Assembling 3-D activities under one roof is "a more efficient way to operate with the engineering teams as they evaluate components," Kennedy said.
Additive manufacturing, also known as 3-D printing, is a major trend in the manufacturing industry nationwide affecting how things are made. It is the process of creating solid objects from a digital file by printing thin layers of material one on top of another.
Traditional manufacturing takes a piece of metal, or other material, and machines it away to get to the end object.
GE Aviation in 2016 will fly its first jet engine containing parts made using 3-D manufacturing. That year, the Ohio-based company's next commercial engine comes to market, the LEAP engine, made by CFM International, a joint venture of GE and French company Snecma. Each LEAP engine will contain fuel nozzles made using the 3-D process.
The 3-D technology allows GE to make fuel nozzles from a more advanced material than traditional methods, company officials have said. The material, cobalt chromium, can withstand temperatures of 3,000 degrees Fahrenheit. Also, conventional fuel nozzles are made from multiple smaller pieces, whereas a 3-D manufactured nozzle is a single piece that weighs less and has no pieces welded together.
Employees at the Additive Development Center will evaluate different engine parts that can be made using the process in the future, and work to expand the 3-D manufacturing process to more engine parts, Kennedy said. Their findings will be applied to a second commercial engine in development — the GE9X — that is planned to enter the market by the end of the decade.
In 2012, GE Aviation acquired 3-D technology through the purchase of Morris Technologies of Sharonville and sister company Rapid Quality Manufacturing of West Chester Twp. The old Morris and Rapid Quality buildings will eventually be closed and sold, or repurposed, Kennedy added.
GE Aviation has grown to be one of Butler County's largest employers of more than 2,000 jobs, which includes the North Pointe at Union Center complex housing the headquarters of CFM International and engineering operations; offices leased at Centre Pointe in West Chester Twp.; GE Engine Services on Symmes Road in Hamilton; and now the Additive Development Center to open on Windisch Road.
Altogether, GE Aviation employs approximately 9,000 in greater Cincinnati-Dayton.
http://www.journal-news.com/news/business/ge-aviation-to-research-3-d-manufacturing-in-west-/nhTSb/