GE Aviation plans $500M in HQ investments through 2020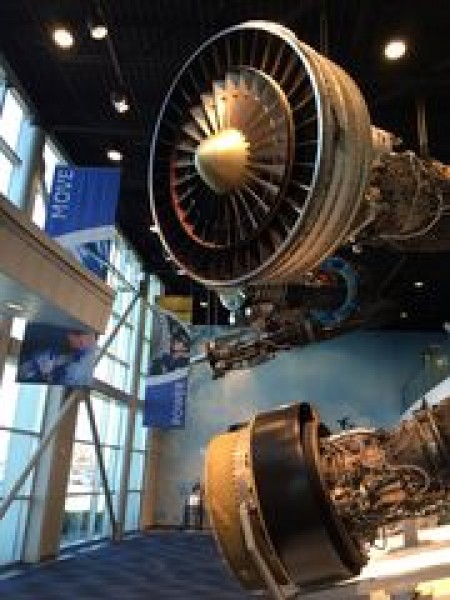 General Electric Co. has been making big investments in the Evendale headquarters of its aviation division in the last few years.
But officials from GE Aviation said Tuesday the investment plans aren't stopping there. By 2020, about a half-billion dollars will be invested in the Evendale operations to boost research and development and jet engine testing capabilities in addition to its manufacturing operations.
"The vision here is trying to make a campus that's collaborative, innovative, full of technology that's testing our latest engines, that's developing our latest materials," said Tim Meyers, Evendale plant manager. "So it's exciting. We're in a really good spot (for) an aviation headquarters."
Engines produced throughout General Electric's history hang inside the company's Learning Center at its Aviation division headquarters in Evendale. (Photo: The Enquirer/Bowdeya Tweh)
Evendale serves as the center for GE Aviation's engineering, administrative, development engine test, and development engine assembly operations. The site manufacturing heritage is older than the village of Evendale itself, dating back 75 years with Wright Aeronautical buying 140 acres of land to develop piston engines during World War II.
GE Aviation has about 6,500 workers in Evendale, 7,500 employees in Greater Cincinnati and more than 9,000 in Southwest Ohio and Northern Kentucky.
GE Aviation's annual revenue has more than tripled over the past 20 years to more than $25 billion. Commercial jet engines in service from GE and its partner companies will grow from 36,000 engines today to about 46,000 engines by 2020.
New additions to GE Aviation's Evendale campus and neighboring operations include:
A $100 million center to test engine combustors. Inside the jet engine, the combustor is where compressed air and fuel are mixed. The new center can generate compression rates needed to test future engine designs. The new substation adjoining the center is similar to those used to power a large shopping mall, which can generate up to 40 megawatts of electricity, enough to power about 2,000 houses.
A $140 million additive development center. North of the Evendale plant in Butler County along Interstate 75, the GE Aviation Additive Development Center focuses on new components that can be produced with GE's 3D additive manufacturing technology. This center will ultimately create more than 50 new jobs.
The CMC FastWorks Lab. Lightweight and heat-resistant ceramic matrix composite components in GE jet engines are deemed a significant breakthrough for the jet propulsion industry. The lab exists for GE scientists and engineers to develop new, highly advanced materials for aviation applications.
GE Family Wellness Center. The new center at the Evendale plant, managed by TriHealth, serves thousands of area employees, adult dependents, and retirees. It offers services including occupational health services, primary care, same-day acute care, physical therapy, lab, pharmacy and wellness programs. The facility opened in May 2015.
http://www.cincinnati.com/story/money/2016/03/29/upgrades-ge-aviations-hq-bolsters-operation/82375200/