Family-owned Kingsgate Transportation seeks expansion with office move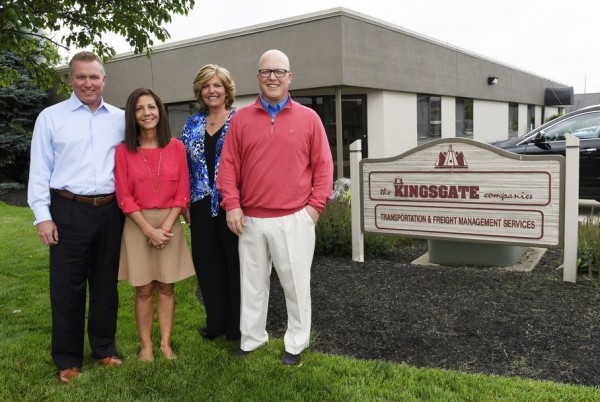 WEST CHESTER TWP. —
After 29 years in business and a successful handoff from the founders to second generation owners, freight brokerage firm Kingsgate Transportation Services LLC is planning a new expansion and heavy hiring ahead.
Kingsgate, named after the West Chester Twp. street on which it was founded, has signed a lease for office space along Union Centre Boulevard with triple the square-footage than its current Eagle Ridge Court address, said one of the owners, Jeff Beckham. Plans are to add more than 30 employees, about double the size of the company today, Beckham said.
Beckham said his family's company still has its first two clients from when his parents, Tom and Merry Beckham, started the business in his old bedroom in 1986. And he attributes a culture that puts clients first for the company's growth over the years.
"We're going to stay true to what got us to this point," Jeff Beckham said.
Now, he's counting on that "culture of connection" to grow as Kingsgate plans to beef up its sales and brokerage staff to win more contracts.
"We see an opportunity to build out the brokerage side of our business and all of that's going to be through adding staff and sales people," Beckham said. "We see a window of opportunity where our industry's changed."
As a freight broker, Kingsgate negotiates between carriers and companies what freight is moved when, where and how, and by various modes of transportation including truck, rail, air and ocean. However, the West Chester logistics company does not own trucks, rail cars or other assets. Additionally, Kingsgate provides third party logistics management services, running supply chains for some clients such as transporting raw materials to facilities and finished goods to end destinations.
"The importance of that is everybody's kind of operating on a just-in-time manufacturing environment right now," Beckham said.
It used to be that Kingsgate gained customers by pounding shoe leather on the streets and knocking on doors. But he said it has changed so most business is conducted on the phone or online. Hopes are that as Kingsgate expands, recruiting efforts draw long-term employees by paying industry-leading commission and those workers continue to have a customer-centric focus, he said.
"Our industry is one where clients come and go," he said. "We have a history where clients stay with us for long periods of time and it's kind of what sets us apart from our competition."
"We really try to look through our clients' eyes so to speak and what do they need from us."
Plans are to move into new offices at 9100 West Chester Towne Centre Drive, off Union Center Boulevard, after renovations, he added.
Siblings Jeff and David Beckham and Amy Barnett bought the brokerage from their parents in 2008, and own it along with Jeff's wife, Julie. Their company has previously been recognized by University of Cincinnati's Goering Center as Family and Private Business of the Year for businesses less than 25 years old.
On Wednesday, Kingsgate learned it is a finalist for this year's All-Star Family of the Year award from the center, Jeff said.
"We don't have the general public name recognition but in our industry we do and when people think of Kingsgate, they think of our family," Jeff said.
Kingsgate on June 1 was approved for a 40 percent, five-year Job Creation Tax Credit by the Ohio Tax Credit Authority in exchange for the company's commitment to create at least 30 jobs and $25,000 worth of capital investment over the next three years, according to regional economic development agency REDI Cincinnati. The tax savings, once all 30 jobs are created, is valued to be $63,000 a year, according to Ohio Development Services Agency.
"It is rewarding when these companies find prosperity and grow in our community," said Township Administrator Judi Boyko in a written statement. "CTL Aerospace (another company planning to expand) and Kingsgate Transportation represent targeted industries for our continued economic sustainability."
---
KINGSGATE TRANSPORTATION SERVICES LLC
What: Freight brokerage firm, which also provides third-party logistics management services
Where: 8917 Eagle Ridge Ct., West Chester Twp.
Phone: 513-874-7447
Owners: Jeff and Julie Beckham; David Beckham; and Amy Barnett
Website: www.kingsgatetrans.com
Employees: Between 20 and 25
http://www.journal-news.com/news/news/family-owned-kingsgate-transportation-seeks-expans/nmZtM/