Expansion to double size of Streets of West Chester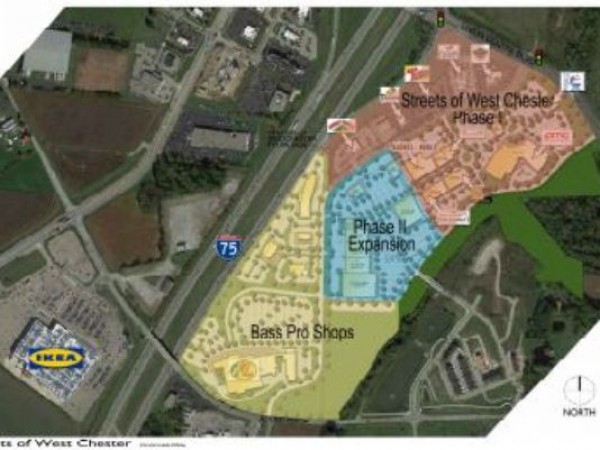 The Streets of West Chester is expected to double in size under a plan being developed by the lifestyle center's new owner.
About 200,000 square feet of space for retail, restaurant and entertainment tenants will be added to the West Chester Township development near Interstate 75 and Union Centre Boulevard.
LPC Retail said Wednesday it is working with Jenn Williams and Melissa Ruther of Jones Lang LaSalle on pre-leasing and marketing the second phase of the Streets of West Chester at 9465 Civic Center Drive. A groundbreaking is planned in fall 2015 and the expansion is expected to open in spring 2016.
The second development phase will serve as a bridge between the new Bass Pro Shops planned at I-75 and Allen Road and the first one that includes the AMC West Chester 18, Barnes & Noble, Ann Taylor LOFT, P.F. Chang's China Bistro, and Mitchell's Fish Market. The Streets of West Chester's 13 tenants fill about 95 percent of the more than 167,000 square feet of leasable space.
"The development of these two new retail locations represents the largest concentration of boutique-like retail amenities in the West Chester area," said Township Administrator Judith Boyko. "These are the type of retail destinations our diverse and sophisticated residents demand, and we expect both to be very successful footholds in our retail fabric."
Expanding the Streets of West Chester helps fulfill the master plan established for the property more than a decade ago. A subsidiary of American Realty Capital - Retail Centers of America Inc. closed a $40.5 million deal April 3 to buy the Streets of West Chester from two real estate companies.
"There is a great deal of shopper demand and new development momentum in this area that will benefit our site and our loyal shoppers," said Phil Pearson, LPC Retail's senior vice president for asset management.
Construction at Bass Pro Shops' new 22-acre site is expected to begin this summer. When the new store is complete in 2015, it will move from its current location at Forest Fair Village mall on the Forest Park/Fairfield border.
The Streets of West Chester is growing because it benefits from having the right mix of location, demographics and strong consumer demand from the nearby residential and office markets, said Larry Kilduff, who leads JLL's Midwest Retail operation.
"Our team has already spoken with a number of retailers who have expressed interest in the regional appeal of this area given northern Cincinnati's explosive growth," Kilduff said.
http://www.cincinnati.com/story/money/business/2014/07/09/streets-of-west-chester/12404005/