EXCLUSIVE: Aloft building its 1st Southwest Ohio hotel
November 29, 2016
|
Aloft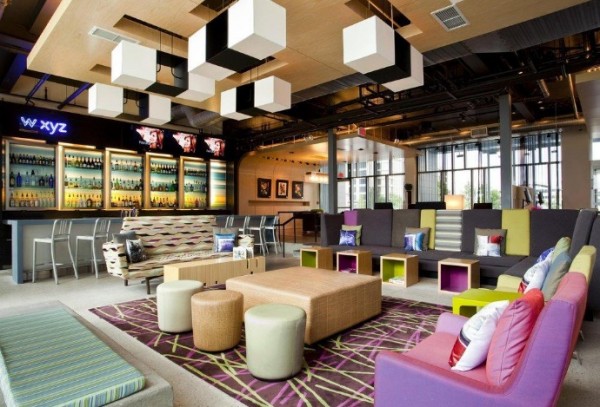 An Aloft hotel is coming to West Chester Township.
An affiliate of Witness Hospitality LLC purchased the former El Coyote restaurant at 9183 Centre Point Drive for $1.2 million. Columbus-based Witness Hospitality plans to build Southwest Ohio's first Aloft hotel on the 2-acre site.
Paige Francis, vice president of Global Brand Management for Aloft Hotels, said the 116-room hotel is scheduled to be complete in July 2019.
Officials with Witness did not respond to calls for comment.
Francis said Aloft selected West Chester because it is centrally located between Cincinnati and Dayton and near Cincinnati's growing startup community.
"Cincinnati is a fast-growing Midwest metropolis and saw many startup companies move into the area in 2016, which bolstered travel and occupancy," Francis said.
Aloft was one of Starwood's hotel brands. Marriott International completed its acquisition of Starwood in September. The Aloft brand is a modern hotel with loft-like rooms that are heavy on technology and a vibrant, social atmosphere. The brand is focused on millennial travelers.
Its w xyz bar is a place for guests to meet over music and signature cocktails. These bars offer free access to local emerging artists as well as some of the hottest bands with "Live at Aloft Hotels" programming.
The West Chester hotel will have SPG Keyless, a keyless entry system that allows guests to use their smartphone or Apple watch as a room key. The Aloft in West Chester also will have a fitness center, a one-stop grab-and-go food and beverage area, and live local music.
Currently there are two Aloft hotels in Ohio, one in downtown Cleveland and one in Beachwood, east of Cleveland. Aloft hotels are scheduled to open next year in North Olmsted, west of Cleveland, and Westerville, outside of Columbus.
The Greater Cincinnati region's first Aloft hotel will be located in Newport as part of the $80 million Aqua on the Levee project. The Aloft Newport on the Levee is scheduled to open Jan. 12. It will have 144 rooms with a 24/7 gym and an indoor pool.
Through the third quarter of 2016, there were 114 Aloft hotels in 18 countries. There are another 150 Aloft hotel in the development pipeline.
Jason Gibson, broker at Anchor Associates, represented the seller in the deal. George Flynn, retail specialist also with Anchor Associates, represented the buyer.
Even with seven existing hotels at Union Centre Boulevard, Flynn said an Aloft hotel would be a welcome addition.
"The Aloft will help upgrade the quality of hotels in that area," Flynn told me.
Witness Hospitality is a Columbus-based hotel investment, construction and management company that was formed this summer when Alliance Hospitality Inc. and KB Hotel Group merged. The company has 27 hotels in its portfolio and 13 new hotels in the pipeline.
http://www.bizjournals.com/cincinnati/news/2016/11/28/exclusive-aloft-building-its-1st-southwest-ohio.html?ana=e_cinci_bn_breakingnews&u=tBmD2vXOO43GkvBi9gAy1GAUhYr&t=1480425331&j=76583151