DogBerry Brewing opens in West Chester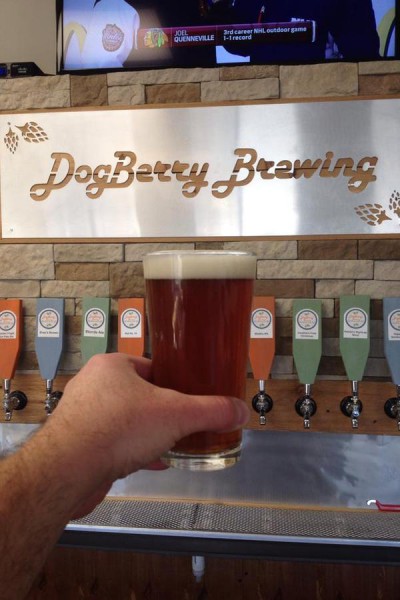 After putting their science background to good use developing more than 30 beer recipes, stay-at-home dads Tony Meyer and Chris Frede are ready to take those beers public. They'll open their new brewery, DogBerry Brewing, in West Chester Thursday.

Located at 7865 Cincinnati Dayton Road, it will be that area's first craft brewery and will focus on small-batch production, with limited tap room hours. DogBerry's one-barrel brew house and eight two-barrel fermenters put its capacity at about 235 barrels per year, but Meyer said they expect to brew only 180 to 200 during the first year.

Meyer, who fell in love with craft beer during visits to Seattle, where he has family, has been home-brewing off and on for about 16 years. Frede got into the hobby about three years ago and the duo – who met in 2000 while working in infectious disease research at Cincinnati Children's Hospital Medical Center – started getting together every few weeks to brew. Both are now stay-at-home fathers of three.

"The kids would play all summer and we would brew out in the driveway," Meyer said. "It grew organically and naturally. That's how we got to this point, and that's how we expect to grow.

"We're still coaches, dads, husbands, so we need to maintain all of that, too," he added.

The brewery's tap room, housed in what was previously a pet store, then a comic store, will have 10 taps that rotate constantly, so beer drinkers can expect to see two or three new ones each week. Five staples will be offered most of the time, but not quite year-round.
Meyer's longstanding affinity for Pacific Northwest-style beers will translate into "a lot of big IPAs, citrusy tones, tropical fruit notes," he said. Beers represent the full range of styles – from kölsch and blond all the way to stout and porter.
"I wouldn't say you could take most of our beers and fit them in a style guideline," he said. "(For example,) our stout is probably the hoppiest you're ever going to have, but we like it."

Among the beers available at the opening will be Maiden Flight Rye Pale Ale, so named because its primary hop is Falconer's Flight; Happy Sac smoked porter, dry hopped with rosemary; and Wildfire IPA, finished with black peppercorns and coriander. (They created the latter because they wanted a beer that would pair well with chips and salsa.)

Many of the names are a nod to their family life: Caroline's Cozy Christmas is named after one of Frede's daughters; Natalie's Nightcap Stout is named after one of Meyer's daughters; Bray's brown is named after Meyer's son. The name "DogBerry" itself is a hybrid of part of each owner's home street, reflecting the fact that both started brewing at home. (It's also the name of a character in Shakespeare's "Much Ado About Nothing," but that's just a coincidence, Meyer said.)

Beer will be available in the tap room by the flight, pint or half pint, with select offerings available to take home by the growler.
The tap room itself has 45 seats at picnic tables and bar stools, with a total capacity of 65. Meyer and Frede did much of the work on the space themselves, with help from family and friends, just as they created their own logo and color scheme. Not surprisingly, the brewery is kid-friendly, with old-school desks in one corner that they plan to stock with coloring books. Two TVs are featured.
One of the space's most eye-catching features is a display of about 550 empty beer bottles from Meyer's personal collection – beers he has tried from as far back as 1996 – which fill display cases that held reptiles when the space was a pet store. (That's just part of his collection; he estimates that he has 300-400 more that aren't on display.)

Meyer said they hope DogBerry will foster a comfortable atmosphere where everyone from "the absolute high-end beer geek" to the craft beer novice can come in for a beer and talk about it with the men who made it. After all, he and Frede have no employees; they'll be running the brewery with help from family, friends and neighbors who have volunteered their time.
That's all part of being a small brewery. Meyer and Frede aren't ruling out growth: Though their beer is only available in the tap room for now, they do foresee eventually having it on tap at local bars and restaurants. They also haven't ruled out bottling or canning as a possibility down the road. But at least for now, they're thinking small.

"We don't want to take over the world or be the biggest," Meyer said. "We just want to make the beer that we love and share it with those that love it."

Hours will be 4-8 p.m. Thursday-Saturday. 513-847-8208 or visit the brewery's Facebook page.