Cookies, classes featured at new West Chester store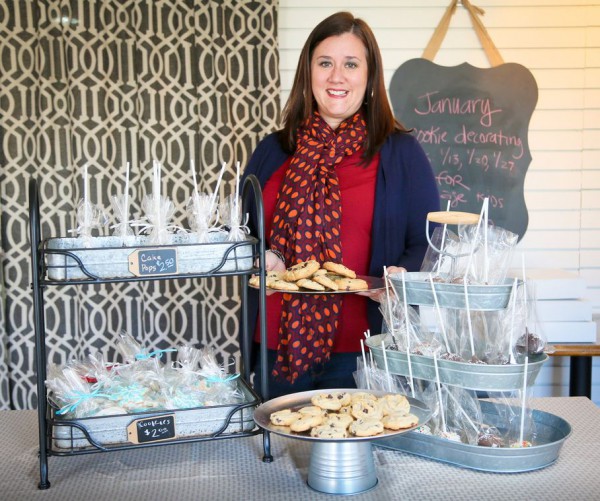 WEST CHESTER TWP. —
A new business here aims to be a gathering place for those who like sweet treats and good conversation.
Delicious Designs Cookies recently opened at 8880 Cincinnati-Dayton Road, selling custom cut-out cookies and cake pops and offering cookie-decorating classes for children, as well as event rentals.
"Especially after Book Bums closed, there's no place for people to really get together," said owner Arin Singer-Bonk. "There's no place for people to gather and have a cup of coffee in this little area besides maybe other places farther away like Starbucks."
Cookies for special events and occasions are available in any kind of shape or theme and Delicious Designs already has garnered corporate orders from numerous businesses who requested cookies modeled after their logos, Singer-Bonk said.
Cake pops cost $2.50 each. Chocolate chip cookies are available for individual purchase ($2) or in bulk inside a glass cookie jar ($15).
Cookie classes allow children to decorate a cookie box, several cookies and an apron. The business also is available to be rented for special occasions, including birthday parties and baby or bridal showers.
Singer-Bonk said the business got its start after she and her husband moved to West Chester 10 years ago. Not knowing many people in the area and not having a job, she started making and selling cookies from her home.
"I loved baking and had wanted to pursue that," she said. "When I found myself here with, at that time, a toddler and no job, it kind of seemed like the perfect time to start something."
Word eventually spread about Delicious Designs, leading Singer-Bonk to launch summer programs for area youth, as well as an after-school enrichment program with Lakota schools.
The 1,300-square-foot storefront she opened last month has no display case or shelving. Instead, cookies and cake pops sit on tiered trays and plates in a living room setting.
"I've always loved to bake," she said. "It's just so fun, if you have a craving for something, to be able to just make want you want."
For more information, call 513-490-7221, write to deliciousdesignscookies@yahoo.com, or visit www.tinyurl.com/deliciousdesigns.
http://www.journal-news.com/news/news/cookies-classes-featured-at-new-west-chester-store/npzRP/