Companys expansion means 200 new jobs in West Chester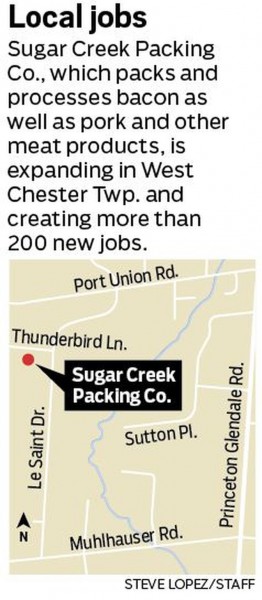 WEST CHESTER TWP. —
A company that processes raw and ready-to-eat pork, chicken, bacon, and other food products said it likely will bring more than 200 jobs to Butler County as part of its plans to expand its presence here.
Sugar Creek Packing Co. plans to open a new corporate headquarters, manufacturing, and warehousing facility by putting $2 million into renovating 4235 Thunderbird Lane, a 182,977-square-foot vacant building formerly occupied by U.S. Foods.
The revamped facility, which is set to open by late March or early April, will create more jobs than outlined as part of a Ohio Job Creation Tax Credit, according to Dan Hutcheson, of sustainability and corporate affairs for Sugar Creek.
"The initial commitment and projection was 58 (new jobs)," Hutcheson said. "It's likely going to be closer to … over 200 jobs there probably within two to three years."
Those jobs would come in the form of full-time production, supervisory and warehouse positions that would create ready-to-eat food products, he said.
About 58 corporate office staff would relocate to West Chester Twp. from other sites in Springdale, Blue Ash, Dayton and Washington Court House, he said.
"The company has got more of its personnel situated in southwest Ohio, so this is actually is going to enable more of a consolidation of corporate folks in the new West Chester facility," Hutcheson said.
The company spent $8 million in August to purchase the facility and approximately 22 acres of land, according to the Butler County Auditor's Office. West Chester Twp. issued a permit Nov. 21 for a commercial addition at the site.
Sugar Creek, which created more than 500 new jobs in the past five years, already operates a combined production and storage facility in West Chester Twp. at 4585 Muhlhauser Road, which will be unaffected by the new facility, Hutcheson said. The company also operates locations in Dayton, Washington Court House and Kansas.
Customers include national and private label food brands.
As an incentive to pick Ohio for the $2 million project, Sugar Creek was approved in July by the Ohio Tax Credit Authority for a 45 percent, 7-year Ohio Job Creation Tax Credit. To receive the tax incentives, the project must first move forward and create 58 new jobs at the site and retain an existing 53 jobs, according to Stephanie Gostomski, spokeswoman for Ohio Development Services Agency.
Sugar Creek had been competing with Indiana for expansion, according to state records. However, officials opted to build in both states, Hutcheson said.
The West Chester Twp. site held appeal because of the tax incentives, the building and its location, which puts it in proximity to its other plant and makes it well-suited for transportation logistics, Hutcheson said.
The company will open in 2015 a $100 million, 300,000-square-foot facility in Cambridge City, Ind., he said.
"Each state has a different offering and the decision was made based upon a comparative and competitive review," Hutcheson said.
http://www.journal-news.com/news/news/companys-expansion-means-200-new-jobs-in-west-ches/njJpk/