Cincinnati State to dedicate new West Chester logistics center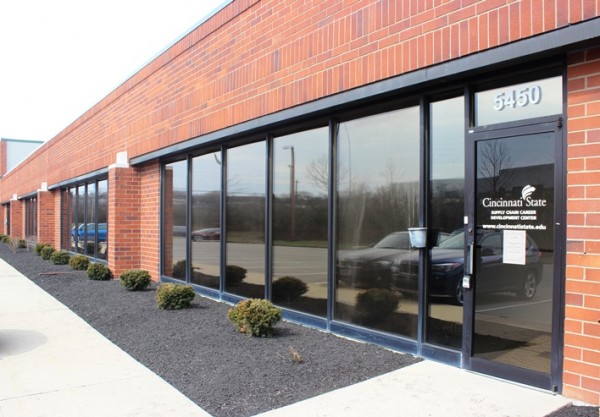 Supply Chain Career Development Center in West Chester will serve multiple training programs.
WEST CHESTER TWP. —
Cincinnati State will host a grand opening ceremony next week for its new Supply Chain Career Development Center.
The event is scheduled to start at 10:30 a.m. June 1 with a ribbon-cutting ceremony at the site, 5450 Spellmire Dr., in an industrial park off International Boulevard near Interstate 75. Tours of the facility will follow.
First reported on by the Journal-News in February, the building combines more than 22,000 square feet of office, classroom and warehouse space that will provide a venue for Cincinnati State's Supply Chain Management certificate and degree classes, as well as several other logistics-related training offerings.
The facility had a soft opening at the end of spring semester – students from the Clifton campus used it for class projects that involved designing warehouse spaces, according to spokesman Robert White.
Forklift classes began today, he added. After the June 1 dedication, White said, "the full operation will get up and running."
Cincinnati State's supply chain programs cover the entire industry, including its forms of transportation, the software systems used to manage the flows of raw materials, parts and finished products, and the efficient use of warehouses and other storage systems. Specific types of training provided at the Supply Chain Career Development Center in West Chester will include:
Courses and labs associated with the Supply Chain Management certificate program
Courses and labs associated with the Supply Chain Management associate degree program
Commercial Driver's License classes (in partnership with Butler Tech)
The American Production and Inventory Control Society's Global Logistics Associate program
Forklift Essentials (OSHA compliant)
MSSC Certified Logistics Associate (CLA) and Certified Logistics Technician (CLT) programs
The warehouse training lab will be jointly managed by Cincinnati State's Workforce Development Center and two academic divisions: Business Technologies and the Center for Innovative Technologies. In addition, Cincinnati State's Pathway to Employment Center will provide career assessment, job readiness and employment placement services on site.
Funding for the project is coming from a four-year, $2.5 million U.S. Department of Labor Trade Adjustment Assistance Community College Career Training grant that Cincinnati State was awarded in 2015.
http://www.journal-news.com/news/business/cincinnati-state-to-dedicate-new-west-chester-logi/nrR3t/