Chinese eatery in West Chester offers quick casual service, dining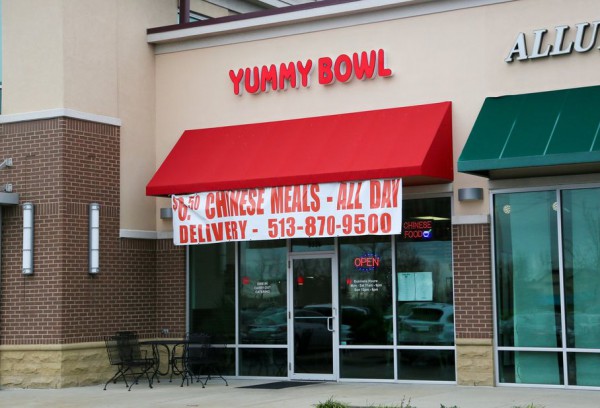 WEST CHESTER TWP. —
The owner of a new family-operated, quick-casual eatery aims to serve "great food, fast and fresh" and intends to expand to become " like a Chinese Chipotle."
The 1,500-square-foot Yummy Bowl recently opened at 9336 Union Centre Boulevard in the West Chester Town Centre plaza with a menu of Fried Rice Bowls, Rice Bowls and Noodle Bowls ($6.25, $6.50 and $6.75, respectively) that come with beef, chicken, pork or shrimp. Any of the adult-sized options are available in child-sized portions for $3.75.
Appetizers, referred to as "small bites," range from $1.70 to $4.
Owner John Chen came to the United States from China 16 years ago, earning his MBA from Miami University in 2002 and serving as a general manager for a well-known Asian restaurant chain for 12 years while opening a series of Greater Cincinnati locations
He said he learned the importance of a simple menu, good customer service and fresh, cook-to-order food that's quickly served and reasonably priced.
"Everybody likes my price," he said. "Nowhere can you get a Chinese dinner for $6.50."
Instead of waiting for a check or beverage, customers place and pay for an order, then stop by a self-serve beverage station. Their order is then prepared for dine-in or carry-out within minutes.
Alan Minadeo, of West Chester, said his family typically orders from Yummy Bowl at least once a week, enjoying not only the food, but the friendliness and flexibility.
"Between me, my dad and my sister, we've tried just about every dish on the menu," said Minadeo, who favors the Orange Chicken and Kung Pao Shrimp dishes. "You're pretty much guaranteed to be full when you're done, so you get your money's worth. I would say this is one of my favorite restaurants in the area."
Seasonal specials offer customers the opportunity to try something new, like instant-favorite "Fireworks Chicken," a tender chicken breast stir fried with red and green bell peppers and yellow onions in a spicy black bean sauce.
The popularity of such items means a greater likelihood of them being added to Yummy Bowl's menu board, Chen said.
Chen said he decided to sign a 5-year-lease for the "quick casual" eatery with an option for another five years, cross-training his six employees to be able to cook, serve and deliver.
"It's a more efficient team," he said
The new West Chester location is just part of Chen's plan. A second location near Kenwood Towne Centre is planned for as early as this coming summer.
"My goal is to build a neighborhood Chinese kitchen … like a Chinese Chipotle," he said.
---
IF YOU GO
WHAT: Yummy Bowl, 9336 Union Centre Boulevard, West Chester
ONLINE:www.myyummybowl.com
PHONE: 513-970-9500
CATERING: food for 10 people: $60; food for 20: $115.
DELIVERY: Available within a 7-mile radius for orders of $10 or more.
HOURS: 11 a.m. to 10 p.m. Monday to Friday; 11 a.m. to 9 p.m. Saturday; noon to 8 p.m. Sunday
http://www.journal-news.com/news/news/chinese-eatery-in-west-chester-offers-quick-casual/npkQW/