Cabelas store may be coming to West Chester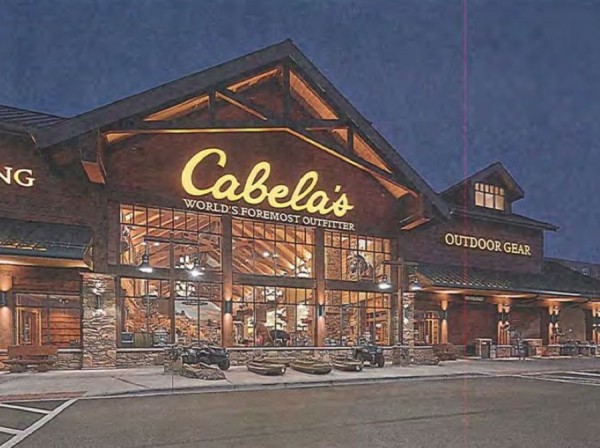 WEST CHESTER TWP. —
Another high-profile retailer may open a location along Interstate 75 in Butler County.
A proposed 75,143-square-foot Cabela's at 7536 Liberty Way would be the second one in Ohio for the direct marketer and specialty retailer of hunting, fishing, camping, shooting and related outdoor recreation merchandise. A Columbus location opened in March 2013.
The 18-acre site also could feature a 40,000 square-foot general office building and three 6,000-square-foot high-turnover, sit-down restaurants, according to a preliminary development plan submitted Tuesday.
The site, which is situated between Tylers Place Boulevard and Interstate 75, sits across the street from Liberty Center, a mega-retail project now under construction in Liberty Twp. by a different developer.
Plans for the site, which is located north of the housing subdivision The Preserve at Wetherington, were submitted Tuesday to the West Chester Zoning Commission for its July 21 meeting. Land there is already zoned for commercial planned unit development.
Nebraska-based Cabela's operates 56 stores across North America and has announced plans to open an additional 21 during the next two years.
Cabela's new next-generation format, like the one featured in its Columbus location, surrounds customers in an outdoor-like experience with a large mountain replica and museum-quality wildlife displays. In addition to thousands of quality outdoor products, the stores also includes a large stone fireplace, an indoor archery range and archery tech room, deli, Gun Library and Bargain Cave.
Ikea opened in West Chester at the southeastern corner of Allen and Mulhauser roads in 2008 and Bass Pro Shops announced in 2013 plans to build a 150,000-square-foot store near the intersection of I-75 and Union Centre Boulevard to open in 2015. Steiner + Associates announced in May that it had signed Dick's Sporting Goods as an anchor tenant for an 80,000-square-foot location at Liberty Center.
The new location is expected to complement the township's growing list of regional retail destinations, according to Judi Boyko, the township's administrator.
"It's rewarding to know that West Chester is a desired location for these national destination retailers," Boyko said. "It's a very enviable position and we're very humbled by the attention."
Boyko said the township does not have a retail strategy that finds it actively courting retail development and that destination retailers likely choose the township based on a comprehensive market analysis.
"It really is market driven," she said.
Nathan Borowski, a Cabela's spokesman, said that until the company makes an official announcement, it does not comment nor share information on any potential location for competitive reasons.
http://www.journal-news.com/news/news/cabelas-store-may-be-coming-to-west-chester/ngJCD/