Cabelas founder welcomes hundreds at West Chester grand opening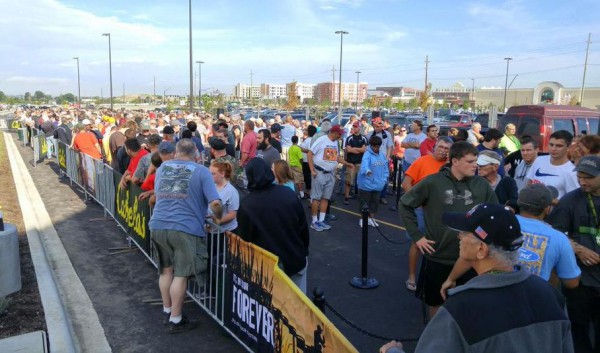 WEST CHESTER TWP. —
UPDATE, 11:05 a.m.: Mary Cabela, one of the founders of the Cabela's, attended the grand opening Wednesday of the chain's West Chester location.
"It's a beautiful store," she said.
The 82,000-square-foot West Chester location was designed to offer more products specifically for local customers, including a larger boating and fishing section, company officials previously told the Journal-News.
Cabela's started in 1961 "as a hobby," Cabela said, and has now turned into 77 stores across the U.S. and Canada.
Shopper Justine Waggel, 19, said she was surprised by the crowds that the grand opening drew.
"I think it's huge," she said. "We went to the Dick's (Sporting Goods) opening, but this is crazy comparatively. It's crazy. So many people are here."
Across the street from Cabela's, a two-story Dick's Sporting Goods is one of three anchor tenants for the $350 million Liberty Center project under construction and expected to open in October.
The 80,000-square-foot store, which has not yet opened, will be one of the largest Dick's Sporting Goods locations in the Tri-state area, according to developer Steiner + Associates.
Waggel had been waiting in line since about 8:30 a.m. and was one of the first 500 people in line, which means she received a gift card from the store as part of its grand opening promotions. Her gift card was valued at $25.
"This is big for the area," she said of the Cabela's opening.
ORIGINAL REPORT: With the shot of an arrow, the new Cabela's store in West Chester Twp. officially opened this morning.
In lieu of the traditional ribbon cutting, a store employee shot a bow and arrow to cut the grand-opening ribbon before 10 a.m.
Employees lined up along the main aisle of the store, giving high-fives to customers as they entered the 82,000-square-foot outdoor sporting goods store.
About 500 people were waiting in line outside the store to enter, according to those at the scene.
Drivers were warned about heavy traffic expected along Liberty Way today and Thursday due to a series of celebratory events for the store's opening.
By 9 a.m. this morning, overflow parking was being utilized in a nearby field.
"We do expect quite a few people so we do recommend people come early," Bonnie Bastian, retail marketing manager for the West Chester Cabela's, told the Journal-News. "To give you an idea, some of our most recent store openings were right around 4,500 people first thing in the morning."
Unless drivers are headed to shop Cabela's, West Chester Twp. Police Sgt. Todd Campbell suggests motorists consider alternate routes along Tylersville and Cincinnati-Dayton roads.
The openings of Cabela's and the $350 million Liberty Center development across the street are expected to double traffic along Liberty Way to 25,000 to 30,000 vehicles per day, the Butler County Engineer's Office told the Journal-News in April. Liberty Center is scheduled for an October grand opening.
http://www.journal-news.com/news/news/hundreds-turn-out-for-cabelas-grand-opening/nnMm4/